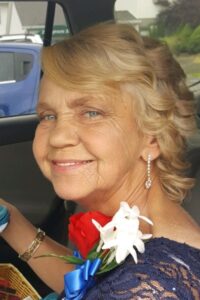 Obituary
Services
Condolences
Pamela R. "Pam" Wachendorf, 64, of Dubuque, IA, completed her earthly journey on Feb. 16, 2022, at home while surrounded by her loving family. To honor Pam's life, her Celebration of Life will be held on Friday, Feb. 18, 2022, from 2:00 until 4:00 p.m. at the Eagle's Club, 1175 Century Drive in Dubuque. The Tri-State Cremation Center is humbly serving Pam's family.
Pam was born on May 14, 1957, in Dubuque, IA, one of seven children to Robert and Rosemary (Welsh) Michael. Pam was raised to have an unending love and devotion for family and friends and a strong work ethic that was second to none. She eventually found the love of her life, Clarence Wachendorf, and the two were blessed with over 25 years together before Clarence was sadly called home ahead of her. Pam spent over 20 years in the dairy department at Hy-Vee and made countless friends along the way. It was only due to recent health issues that Pam had to reluctantly leave her working hours as memories in the past. Pam knew how to enjoy her free-time outside of work as well. An evening at the bowling alley with friends, or trying her luck at the nearest Bingo hall were always sitting at the top of her favorites list, but even a few hours creating magic at her craft table could easily fill the time and bring Pam a little extra satisfaction in her day. But, hands down, Pam found fewer moments in life that gave her greater joy than spending Sunday's with her boys watching her Packer's take the field. Her heart was larger than life and the abundance of her generous love will always be evident in the memories which she leaves behind now. Pam could also be a vibrant firecracker when the situation was appropriate and you never had to wonder where she stood on the important matters in life. It's beyond difficult to imagine that Pam has left our physical lives so quickly, but we are eternally grateful for the 64 years we were blessed with also. Thank you, Pam, for being such a positive force in this world and may peace be yours, as we seek healing in our hearts and minds, while we all wait patiently to be reunited with your beautiful spirit who has left us much too soon.
Those left behind to cherish the memory of Pam include,
her 2 sons,
Casey Kohl, Dubuque, IA,
and Jake (Megan) Wachendorf, Des Moines, IA;
her grandson,
Asher Wachendorf, Des Moines, IA;
her siblings,
Eugene Michael, Dubuque, IA,
Eleanor "Norann" Long, Fitchburg, WI,
and Debbie (Kevin) Linden, Dubuque, IA;
her sister-in-law,
Nancy Michael, Sheboygan, WI;
her brother-in-law,
Clarence Brandenburg, Dubuque, IA;
along with numerous other extended family, friends, and neighbors.
Pam was preceded in death by her husband, Clarence Wachendorf; her parents; her brother, Robert Michael; and her sisters, Colleen Brandenburg and Kathy Maus.
Pam's family would like to thank the nurses and staff at Hospice of Dubuque for all of their professional and compassionate care.
Online condolences may be shared with Pam's family at www.tristatecremationcenter.com
Celebration of Life
Eagle's Club
1175 Century Drive, Dubuque, Iowa, 52001
February 18th, 2022 from 2:00 PM to 4:00 PM
4 comments on "
Pamela R. "Pam" Wachendorf

"