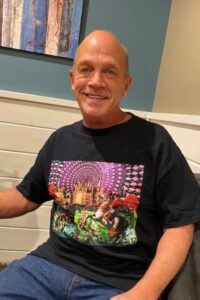 Obituary
Services
Condolences
Michael R. "Mike" Zickuhr, age 58, of Dubuque, IA, completed his earthly journey suddenly on December 20, 2021, at home. To honor Michael's life, a memorial service will be held on Saturday, January 8, 2022, at 11:00 a.m., at St. Peter Lutheran Church, 3200 Asbury Road, Dubuque, with Pastor Calvin Konop officiating. Family and friends of Michael are invited to visit beginning at 10:00 a.m. at the church, and the family would appreciate it if all visitors would be kind enough to wear a mask on this day. Burial will be in the Linwood Cemetery in Dubuque at a later date. The Tri-State Cremation Center is humbly serving Michael's family.
Michael was born on May 9, 1963, in Dubuque, Iowa, a son to Robert P. and Sandra (McNamer) Zickuhr. He grew up learning very quickly that he was going to embrace the world on his terms and savor as much of life as he possibly could. In his youth, Michael was a proud member of the Boy Scouts Troop #48, and the Dubuque Colts Drum and Bugle Cadets Corps. As he grew, Michael discovered the joys of a relaxing sunny day in the garden, or out on his motorcycle, along with spending some quality time on the beach whenever the opportunity arose. Michael was fiercely loyal when it came to his children Tania and Darien, family and friends, the Oakland Raiders, and his faithful canine companion, Blue. He was always cheering on and encouraging his loved ones and playing with his children, and nieces and nephews, would be the highlight of any day in Michael's eyes. Michael and Blue put on many miles together and spent countless hours visiting with new and old friends alike at both the Dubuque Farmer's Market and the Bunker Hill Dog Park. Michael's outgoing personality and generous soul were only slightly overshadowed by his larger-than-life sense of humor.
Michael was a finished carpenter by trade and his passion was always found to be fulfilled whenever there was plenty of saw dust at his feet. He most recently was working with his friends at Lund Manufacturing in Farley and thoroughly enjoyed tackling a new chapter in his life. Michael has truly found some of the greatest moments in his life within this last year thankfully. Many new friends, possibilities, and even new outlooks have undeniably blessed his daily life most recently. Only a couple of weeks ago Michael had made the proclamation that he was going to remember to capture each day with intent and "always remember to slow down for the yellow lights." It has been such a joy to watch his zest for life illuminate once again and knowing that whenever his Sunday school teacher, Mrs. Ardeth Meeker would ask "How's my boy doing," we could easily say, "very good, very good indeed." It is only through the knowledge that Michael had such joy in his heart lately that we can even begin to face this most tragic situation. Looking at the presents under the tree with his name on them only reinforces the fact that our hearts long for nothing more than to have one more day with our dear Michael. We pray with faith for healing, lean on our loved ones for strength, and can only hope that this unbearable pain will eventually subside and become tolerable in time. Thank you, Michael, for all of the unabandoned love and devotion you've shared, and may the Lord grant you eternal peace until we see your little smirk and smile once again.
Those left behind to cherish the memory of Michael include,
his children,
Tania (Dylan Hinman) Rhone, Dubuque, IA,
and Darien (Rylee Lynch) Rhone, Dubuque, IA;
his mother,
Sandra "Sandi" Plumley, Dubuque, IA;
his siblings,
Pam (Allen Gardner) Stock, Brainerd, MN,
Andrea (Joel) Leach, Dubuque, IA,
Mary Zickuhr,
Eugene Plumley, Jr., Dubuque, IA,
Dan (Roxanne) Plumley, Bankston, IA,
Robert (Joy) Plumley, La Pine, OR,
Tamula (Tim) Ware, Asbury, IA,
Jo Lynn (Chuck) Koranda, Dubuque, IA,
and Nova (Tom) Crawford, Casper, WY;
his sister-in-law,
Laura Plumley, Dubuque, IA;
along with numerous extended family, friends, co-workers, and neighbors.
Michael was preceded in death by his father, Robert Zickuhr; his step-father, Eugene Plumley, Sr.; his sister, Katherine Zickuhr; and his brothers, Steve Plumley and Lonnie Plumley.
In lieu of flowers, memorial may be given in Michael's name which will be donated among his favorite charities.
Michael's family would like to thank all of our family and friends who have reached out in so many sincere and generous ways to help us through these most difficult days. Losing a loved one is difficult at any time of the year, but to have to navigate this sudden and painful reality through the Christmas holiday is beyond heartbreaking. There are not words to express how blessed we are to have all of you in our lives and we thank each and every one of you for simply being you. May God bless you all for your kindnesses.
Online condolences may be shared with Michael's family at www.tristatecremationcenter.com
Visitation
Memorial Service
Visitation
St. Peter Lutheran Church
3200 Asbury Road, Dubuque, Iowa, 52001
January 8th, 2021 from 10:00 AM to 11:00 AM
Memorial Service
St. Peter Lutheran Church
3200 Asbury Road, Dubuque, Iowa, 52001
January 8th, 2021 at 11:00 AM
4 comments on "
Michael R. "Mike" Zickuhr

"