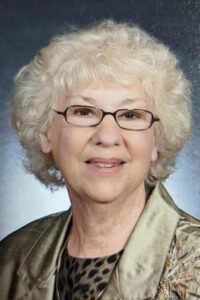 Obituary
Services
Condolences
Annette Raye (Hinebaugh) Bausman, age 90, of Elizabeth, IL, passed away on July 13, 2022, at the Galena Nursing Home. To honor Annette's life, a private family service will be held at a later date. The Tri-State Cremation Center is humbly serving Annette's family.
Annette was born on October 31, 1931, in Savanna, IL, a daughter to Roy and Clara Ferne (Rogers-Siefert) Hinebaugh. She was united in marriage to Gerald Bausman on September 23, 1950, in Mt. Carroll, IL. Annette spent the majority of her working career with the Savanna Army Depot, but ventured into being a realtor for some time, along with owning the Welcome Home Antiques Shop in Elizabeth with her husband Jerry after retirement. Annette was a faithful member of the Elizabeth Methodist Church and was proud to be the choir director there for over 40 years. Her commitment to her faith, family, friends, and community were always on display. In her free-time she enjoyed playing bridge, working on her latest quilt, but her greatest joys were discovered in traveling with Jerry. Camping along the way and wintering in Texas brought true delight to Annette's days and it is well known that her happy place was sitting in the passenger seat with the road atlas firmly in hand. We will miss our dear Annette more than words can depict, but we are grateful for the memories she leaves behind.
Those left behind to cherish the memory of Annette include,
her husband of 71 years,
Gerald Bausman, Elizabeth, IL;
her 4 daughters,
Jen (Dennis) Altfillisch, Morrison, IL,
Ann (Barb Sotanski) Bausman, Elizabeth, IL,
Jill (Jim) MacFarlane, Galena, IL,
and Beth (Ken) Beckler, Peoria, IL;
her sister,
Karen Hohbach;
her brother,
Dale Siefert;
her 9 grandchildren and 17 great-grandchildren;
along with numerous extended family and friends.
In lieu of flowers, an Annette R. Bausman memorial fund has been established which will be distributed among her favorite local charities.
Annette's family would like to thank the nurses and staff at the Galena Nursing Home and Hospice of Dubuque for all of their professional and compassionate care.
Online condolences may be shared with Annette's family at www.tristatecremationcenter.com
To honor Annette's life, a private family service will be held at a later date.
2 comments on "
Annette R. Bausman

"