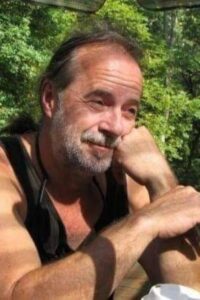 Obituary
Services
Condolences
Dale A. "Grub" Griffin, age 68, of Dickeyville, WI, completed his earthly journey on April 30, 2023, at Finley Hospital in Dubuque, IA. To honor Dale's life, a Gathering of Remembrance will be held from 4:00-8:00 p.m., on Thursday, May 4, 2023, at PJ's Pub and Hall, 3670 County HHH, Kieler, WI. The Tri-State Cremation Center is humbly serving Dale's family.
Dale was born on November 15, 1954, in Staten Island, N.Y. a son to Robert and Betty (McCoy) Griffin. He retired from Krusers in Dickeyville. His favorite past times were playing music, hunting, fishing, cooking, morel hunting, and anything outdoors; especially if it included riding his Harley with his friends. Dale played in many bands in the area most of his life.
Those left behind to cherish the memory of Dale include,
his mother,
Betty Griffin;
his son,
Timmy Griffin;
his granddaughter,
Halona Griffin;
his siblings,
Tim (Kathy) Griffin,
Russ (Kris) Griffin,
Dick (Ruth) Griffin,
Julie Griffin,
and Caroline (Mary Labrecht) Griffin;
his three aunts,
Colleen Mohr,
Laurine Griffin,
and Gayle Griffin:
along with many cousins, nieces, nephews, and many good friends.
Dale was preceded in death by his father, Robert Griffin; many aunts and uncles; and his niece, Holly (Griffin) Amunson.
Dale's family would like to thank all of his family and friends who have continually reached out to provide comfort during this very difficult time. They would also like to extend a sincere and heartfelt thank you to the nurses and staff at Hospice of Dubuque and Finley Hospital for all of their professional and compassionate care.
Online condolences may be shared with Dale's family at www.tristatecremationcenter.com
Gathering of Remembrance
PJ's Pub and Hall
3670 County HHH, Kieler, Wisconsin, 53812
May 4th, 2023 from 4:00 PM to 8:00 PM
4 comments on "
Dale A. "Grub" Griffin

"