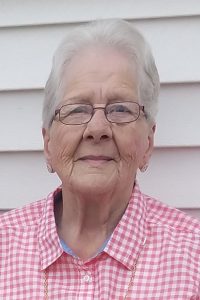 Obituary
Services
Condolences
Darlene Elaine Wieseler, age 82, of Dubuque, Iowa, passed away peacefully, while being surrounded by her loving family, on October 6, 2020, at the home of her daughter. To honor Darlene's life, a Memorial Service will be held on Friday, October 16, 2020, at 3:00 p.m. at the Mueller Memorial Chapel at Linwood Cemetery in Dubuque with Rev. Dianne Grace officiating. Family and friends of Darlene's may visit from 12:00 noon until 3:00 p.m. at the Linwood Mueller Memorial Chapel. Burial in Linwood Cemetery will follow the services. Tri-State Cremation Center is humbly serving Darlene's family.
Darlene was born on November 29th, 1937, in Churchtown, Iowa, a daughter to Floyd and Margie (Niday) Boulting. She married Kenneth M. Wieseler Sr. on January 4 , 1980 in Dubuque. This was Darlene's 2nd marriage, although the couple had known one another since she was 14 years old. They were beyond devoted to their life together and in-turn were blessed with 30 wonderful years together before Kenneth was called home in 2010.
Darlene was a proud homemaker the majority of her life and was well-known for her meticulously clean home, where everything was always in its perfect place. She loved going to Garage Sales and finding new knick knacks such as milk glass to adorn her home with. Her friends enjoyed looking at her perfectly displayed treasures, especially when she decorated beautifully for each holiday. Darlene enjoyed traveling with her husband, Kenneth when he retired, and especially cherished their cruises to Alaska and the Bahamas. She had a playful and mischievous sense of humor that always had everyone in stitches with her wise cracks. Her quick wit and sharp tongue were hard to match and buyer beware if you thought you could compete. Her mission in life revolved around taking care of her children, and then her grandchildren, always putting herself second while her nurturing skills were allowed to abundantly blossom in all of their lives. She never met a stranger and was loved by everyone she met. Darlene was a strong woman who wasn't afraid to make her opinion known, but she also felt quite deeply and was a compassionately loving soul. She lived her daily life by the Golden Rule and always treated others how she wished to be treated. Her other hobbies included; playing euchre with her family, doing crafts, collecting cow and other farm décor, and spending time with her family. In her later years, she loved sitting outside on the deck and watching her hummingbirds drink from their feeders and playfully chase one another for her entertainment. Darlene was an amazing wife, mother and grandmother who embraced any opportunity she could find to bring a smile to the faces of those she loved. Her fun-loving spirit will live on in the minds and lives of everyone she leaves behind today, and may the peace of the Lord hold her securely, while it heals our broken hearts, until we all meet again.
Those left behind to cherish the memory of Darlene include,
her three loving children,
Donald (Tina) Riesselman of Maquoketa, Iowa,
Jeff (Barb) Riesselman of Dubuque, Iowa,
and Kristy (Jason) Berry of Dubuque, Iowa;
her grandchildren,
Nicole Montgomery,
Matthew Riesselman,
Emily Mott,
Alex Berry,
and Gavin Berry;
her 4 great-grandchildren;
along with numerous extended family, friends, and neighbors.
Darlene was proceeded in death by her parents; her husband, Kenneth M. Wieseler Sr.; her brother, John Boulting; her daughter, Sharon E. Riesselman; and her granddaughter, Tara N. Riesselman.
Darlene's family would like to thank the wonderful nurses and staff at Hospice of Dubuque for all of their compassionate care of Darlene. We would also like to thank all of our friends and family that so generously donated their time, talents, and support during this difficult time. We couldn't have made it this far already without the network of caregivers who the Lord has graciously placed in our lives. Thank you!
Online condolences for Darlene's family may be shared at www.tristatecremationcenter.com
Celebration of Life
Memorial Service
Celebration of Life
Mueller Memorial Chapel at Linwood Cemetery
2736 Windsor Avenue, Dubuque, Iowa, 52001
October 16th, 2020 from 12:00 PM to 3:00 PM
Memorial Service
Mueller Memorial Chapel at Linwood Cemetery
2736 Windsor Avenue, Dubuque, Iowa, 52001
October 16th, 2020 at 3:00 PM
One comment on "
Darlene E. Wieseler

"