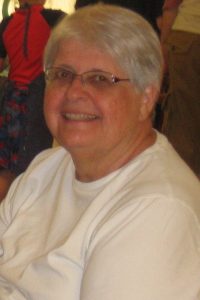 Obituary
Services
Condolences
Deanna I. Cliff, age 77, of Dubuque, Iowa, completed her earthly journey on October 20, 2020, at home, surrounded by her loving family. To honor Deanna's life, a private family service is being held at Grand View United Methodist Church. The Tri-State Cremation Center is humbly serving Deanna's family.
Deanna was born on May 18, 1943 in McGregor, Iowa, the eldest of four daughters to David F. and Edna M. (Miller) McGill. Deanna grew up along the mighty Mississippi in the beautiful rolling hills and valleys north of here, where she dreamed of one day having a family of her very own to love and nurture. After graduating from Prairie du Chien High School in 1961, she attended Madison Vocational Technical School in Madison, WI. She was united in marriage to her soul-mate, Eugene H. Cliff, on May 19, 1962, at St. John's Catholic Church in Prairie du Chien. They moved to the Dubuque area to plant their roots and have been spreading their abundant love and joy throughout the community ever since. They were blessed with 6 children, and when Deanna wasn't home taking care of her family, you could find her working diligently as a Certified Dietary Manager at Stonehill Care Center, Dubuque Healthcare, and finally at Luther Manor before retiring. Deanna was a devoted wife, mother, and grandmother who thrived on every opportunity to have her loved ones around her. Kind, sweet, and gentle are only a few of the words which unfortunately can barely scratch the surface of what her tender soul and spirit would so easily display throughout her 77 years among us. Deanna enjoyed traveling whenever possible, playing cards and games with family and friends, and quilting with her friends in the Grand View Quilt Guild. Our hearts are broken beyond repair today as we've had to watch the Lord call her home before we were truly ready to let her go, but we know that He will hold her so very safely in His loving grace and mercy, and that all we have to do now is pray for peace and healing while waiting patiently until we get to see her wonderfully warm smile once again. Thank you, Deanna, for the amazing example you've not only set, but instilled within all of us along the way. May we carry your bright light bravely along our paths as well and remember you fervently through each step along the way.
Those left behind to cherish the memory of Deanna include,
her loving husband of 58 years,
Eugene H. Cliff, Dubuque, Iowa;
her 6 adored children,
Barbara J. Cliff, Dubuque, Iowa,
Sandra J. Cliff, Reedsburg, Wisconsin,
Brian E. Cliff, Madison, Wisconsin,
Gary D. (Lea) Cliff, Marion, Iowa,
Laura A. Cliff, Palo, Iowa,
and Teresa C. (Tim) Dalsing, Fort Collins, Colorado;
her 7 beautiful grandchildren,
Kelly Cliff, Rylee Cliff, Jillian Cliff, Samantha Dalsing, Megan Dalsing, Scott Dalsing, and Owen Dalsing;
her 3 sisters,
Jane Jacobson, Lake Oswego, Oregon,
Ruth McGill, Milwaukee, Wisconsin,
and Beverly (Michael) Kozelka, Madison, Wisconsin;
along with numerous extended family, friends, and neighbors.
Deanna was preceded in death by her parents.
Deanna's family would like to thank Dr. Angela Kelly for her excellent diagnostic skills, Dr. Tauseef Kahn for his compassionate cardiac care, and Dr. Mark Hermann and the nurses and staff at Hospice of Dubuque for all of their professional and compassionate care and support during this most difficult time. Your sincere kindness truly helped bring the peace we needed into the days we simply didn't want to have to face. Thank you and God bless you all!
In lieu of flowers, and in loving memory of Deanna I. Cliff; cards, memorials and all other expressions of faith and sympathy may be sent directly to her family – Eugene Cliff, 722 Edith Street, Dubuque, Iowa, 52001. We thank you in advance for your thoughtfulness, her services will be available online for those who will be unable to attend in person, and all donations will be generously distributed among Deanna's favorite charities.
Online condolences may be shared with Deanna's family at www.tristatecremationcenter.com
To honor Deanna's life, a private family service is being held at Grand View United Methodist Church.
7 comments on "
Deanna I. Cliff

"