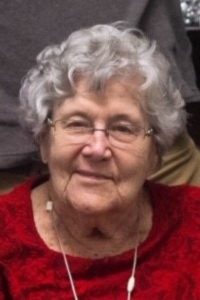 Obituary
Services
Condolences
Doretta E. "Grandma DeDe" Alger, age 100 of East Dubuque, IL, completed her earthly journey February 17, 2020. A celebration of her life will be held February 22, 1-3pm at Bell Tower Retirement Community (430 Sidney St, East DBQ) where friends and family can share their cherished memories of Doretta. A service and burial will also be held at 11:00 a.m. on Saturday, March 21, 2020, at the Marco Lutheran Church, 525 North Collier Blvd., Marco Island, Florida. The Tri-State Cremation Center is humbly serving Doretta's family.
Doretta was born on September 5, 1919, in Walhalla, North Dakota, daughter to Alvin and Florine (Clairmont) Peterson. She completed her bachelor's degree at the University of North Dakota and in 1942 was united in marriage to her soulmate, Arnold E. Alger. The couple was blessed with 2 children, and 57 wonderful years together before Arnold was called home in 1999. Doretta spent her formative years in both North and South Dakota before they moved to Minneapolis in 1957. She devoted her time and talents to inspiring children to love music by providing piano lessons in the community.
Upon retirement in 1980, Doretta moved to Marco Island, FL, where she touched many people in her continued service to the community. She was a devoted member of the Marco Lutheran Church who not only sang in the choir and played the piano during services, but also faithfully gave of herself through the Board of Human Care. She also mentored countless Spanish speaking children with her love for English as a second language ministry.
In 2016, Doretta moved to East Dubuque to be close to her daughter. Although she missed the beautiful Marco Island scenery and ocean, she found moments of joy in still being close to the moving water of the Mississippi River.
In her free time, Doretta enjoyed a relaxing round of golf on a sunny day, an evening with her friends on bowling league nights, and daily walks on the beautiful Marco Island beaches. She loved participating in bible study and sitting in her comfy chair with the latest needlepoint project in hand.
Doretta was a kind and compassionate soul who took very seriously His command to love others. Her unwavering commitment to her faith, family, and friends leaves behind a legacy which has set a very high standard for those she loves to follow. Her spunky personality touched the hearts of many, and she brought smiles to all she encountered. Her courage, generosity, and compassion guided her through the journey of life, inspiring others to live their lives to the fullest. Thank you, Doretta, for being a wonderful role model for us, and may your reunion with your loving husband, Arnold, be as joyous as ours will be when we hear your sweet voice once again. God bless and God speed Thy good and faithful servant!
Those left behind to cherish the memory of Doretta include,
her 2 children,
Douglas (Sandra) Alger, Marco Island, FL,
and Deborah (David Schap) Clifford, Dubuque, IA;
her grandchildren,
Julie (Rod) Fox, Scott (Carol) Clifford, Cynthia (Eric) Haugen, Angela (Todd) Heiden, and Rebecca (Louis) Carson;
her great-grandchildren,
Beau Garcia and Jack, Parker, and Meghan Rickert; Thomas, Patrick, and Daniel Clifford; Cameron, Jackson, and Clarissa Haugen; Cora and Gabe Heiden, and Raiden Carson;
her brother,
Dewey (Georgi) Peterson;
along with numerous extended family and friends.
Doretta was preceded in death by her parents and her husband, Arnold.
Doretta's family would like to extend a sincere thank you to the nurses and staff at Bell Tower and Hospice of Dubuque for their outstanding care, wonderful compassion, and continual support. Doretta was comforted and calmed by the wonderful music of her dear friend Craig Greusel; and both Doretta and her family were touched by the loving care these amazing people provided throughout the end of her journey.
In lieu of other expressions of sympathy, memorials may be sent to Hospice of Dubuque (1670 JFK Rd, DBQ, IA 52001) or Marco Lutheran Church Choir (525 N Collier Blvd, Marco Island, FL 34145).
Online condolences may be shared with Doretta's family at www.tristatecremationcenter.com
Celebration of Life
Memorial Service and Burial
Celebration of Life
Bell Tower Retirement Community
430 Sidney Street, East Dubuque, Illinois, 61025
February 22nd, 2020 from 1:00 PM to 3:00 PM
Memorial Service and Burial
Marco Lutheran Church
525 North Collier Blvd., Marco Island, Florida
March 21st, 2020 at 11:00 AM