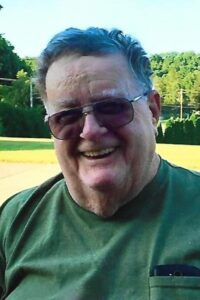 Obituary
Services
Condolences
Frederick J. " Fred" Smothers, age 74, of Dubuque, Iowa, completed his earthly journey on February 13, 2021, at UnityPoint-Finley Hospital in Dubuque. To honor Fred's life, a private family service is being held, with a Celebration of Life being scheduled at a later date. Burial will be in the Mount Calvary Cemetery in Dubuque. The Tri-State Cremation Center is humbly serving Fred's family.
Fred was born on July 22, 1946, in Dubuque, Iowa, a son to Howard and Maxalinda (Carroll) Smothers. Fred was, first and foremost, a family man and the driving force in his entire 74 years among us clearly centered on that fact. He earnestly spent his working years providing for his family in a few favorite fields. Fred loved driving truck, whether for the RTA, Leslein Construction, Top Block, or Warren; if Fred was behind the wheel with a gear grinder in his right hand, he was a very content man that day. He also spent time perfecting his welding skills for a stent and even devoted some time to the Ford Motor Company when he was in Michigan. Fred's work ethic was as strong as his love for his family at home was, but he also knew how to unwind and relax when the workday was done. Camping and fishing were constants on the list, but a little bingo never hurt, and if a little traveling and vacationing could be fit into the schedule, then Fred was sure to always vote a solid yes on the discussion. Fred was also a generous soul outside of his family and opened his home whenever possible to those who needed a little extra love and support in their lives. A wonderful foster parent who would attempt to be funny at times, but still consistently caring no matter how tough the crowd was. Fred embraced life and all that is good in it. Kind and gentle were his approach with a mix of genuine concern and tough love mixed in for good measure. We will miss our dear Fred immensely until we are able to see him again, but we thankfully find peace, as we seek healing, knowing that His loving Lord and Savior has now welcomed Fred into his eternal home. Thank you, Fred, for leaving us so many beautiful memories to treasure while we're apart and may the same God who comforts you today be gracious enough to spread a little extra upon our hearts as well. We love you forever and will miss you more than you could know!
Those left behind to cherish the memory of Fred include,
his loving wife of 45 years,
Patricia Smothers, Dubuque, Iowa;
his 7 adored children,
Christina (Roger) Merkes, Holy Cross, Iowa,
Bobby Jo (Ellis "Dodat") Williams, Dubuque, Iowa,
Cindy Nierling, Dubuque, Iowa,
Fred (Hannah) Smothers, Dubuque, Iowa,
Anthony (Jessica) Smothers, Columbus, Ohio,
John Smothers, Iowa,
Michael Smothers, Columbus, Ohio;
his grandchildren,
Richard (Jessica) Brimmer, Randy (Winter) Brimmer, Nick (Megan) Merkes, Alicia (Marcus) Brenner, Brianna Merkes, Zechariah (Candace Mussman) Merkes, Derrick Merkes, Dalton Merkes, Andrew (Jackie Budde) Pratt, Joshua (Tre'zur Johnson) Ayers, Arianna Williams, Ellis Williams, Ethan Williams, Christian (Angela) Smothers, Rachel Nierling, Caleb Nierling, Dakota Trowbridge, Hunter Trowbridge, Christopher Nierling, Alexis Smothers, Brooklyn Smothers, Naomi Smothers, Jackson Smothers, and Thomas Smothers;
his great-grandchildren,
Caden Brimmer, Elijah Brimmer, Alivia Brimmer, Christianna Brenner, Amelia Brenner, Isabella Brenner, Jase Brenner, Taylan Parramore, Noah Smothers, Emmaleigh Smothers, Gunner Smothers, and Kelsey Budde;
his siblings,
Carol Canfield, Dubuque, Iowa,
Eleanor Ward, Dubuque, Iowa,
Howard "Butch" Smothers, Ypsilanti, Michigan,
Gert (Mark) Frommelt, Dubuque, Iowa,
Curran (Lynn) Smothers, Dubuque, Iowa,
Linda (Clem) Davis, Dubuque, Iowa,
Donna (Dick Haberkorn) Smothers, Dubuque, Iowa,
and Janet Smith, Dubuque, Iowa;
along with countless extended family, friends, and neighbors.
Fred was preceded in death by his parents; his brother, Richard Smothers; his sister, Wanda (Saul) Ortiz; his brothers-in-law, Don Ward and Bill Puccio; and his sister-in-law, Rose Smothers.
Fred's family would like to thank the doctors, nurses, and staff at Finley Hospital for all of their professional and compassionate care of Fred. We would also like to thank all of our dear family and friends who have so faithfully surrounded us with abundant prayers and support during these difficult days. We cannot thank you enough and may God bless you all for simply being you.
Online condolences may be shared with Fred's family at www.tristatecremationcenter.com
To honor Fred's life, a private family service is being held, with a Celebration of Life being scheduled at a later date. Burial will be in the Mount Calvary Cemetery in Dubuque.
2 comments on "
Frederick J. "Fred" Smothers

"