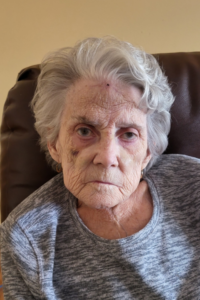 Obituary
Services
Condolences
Irene E. Heeren, age 81, of Bernard, IA, completed her earthly journey on March 25, 2022, at MercyOne in Dubuque, surrounded by her loving family. To honor Irene's life, a private family service will be held at a later date. Burial will be in the Dubuque Memorial Gardens Cemetery. The Tri-State Cremation Center is humbly serving Irene's family.
Irene was born on September 22, 1940, in Iowa City, IA. Her parents, Victor and Effie (Cornwell) Crews raised her to have a love for her family, friends, and community that would never fail. Irene eventually met the love of her life, George F. Heeren, and the couple was blessed with many wonderful years together and two children, Michael and Micheala "Shelly". In her younger years, Irene was known to spend her free-time with George at the roller rink, or out dancing and listening to the hottest bands of the day at Melody Mill. Once the kids came along, she soon found herself bringing them along to enjoy a little roller skating as well and was lovingly known as the "Hot Rod Mama" as her '67 Chevy was often packed full of kids when it wasn't tearing up the streets. Irene was a devoted Girl Scout leader and faithful member of the PTA when her children were young and her outgoing spirit and heart to help others was always on display and never outmatched.
Irene did work at a few places outside of the home, including the Dubuque Golf and Country Club, Neisner's Department Store, and the 3 Mile House, but primarily her heart was always most content at home while surrounded by loved ones. She always found time to enjoy the finer things in life and continually lived with balance between her family, work, and home life. Willie Nelson could regularly be heard playing in the background, and any time that she could spend out in the flower gardens under the warm sun was considered to be a good day indeed. If some solid downtime in the recliner was discovered throughout the busy day, any good cooking show would suffice and add even a little more joy to her life.
Irene possessed a kind and generous soul which allowed her to be such a loving caretaker to both her husband, George, and her daughter, Shelly, as health issues arose in their lives. She was a cancer survivor herself and understood that no difficult battle in this life should ever have to be fought alone. With the strength from the Lord when required, and a fervent prayer warrior lifestyle at her disposal, nobody she loved and cared for would ever be alone in their battle against the earthly struggles we must face at times. It's difficult to imagine life without Irene moving forward, but we know that her Lord and Savior has her held safely in His care now and we only wait for our eternal reunion to arrive in time. Thank you, Irene, for being the woman you were made to be without hesitation and may peace be yours, and healing be ours, until we meet again.
Those left behind to cherish the memory of Irene include,
her son,
Michael (Connie) Heeren, Dubuque, IA;
her grandchildren,
Austin (Brenna) Heeren,
Tanner Heeren,
and Natasha (Sam Valentine) Heeren, all of Dubuque, IA;
her son-in-law,
Gene Moriarty;
her sister-in-law,
Dorothy Kennicker;
her nieces and nephews,
Mary Jane (Dan) Houtakker,
Mary Anne (Richard) Sherman,
John (Tassie) Crews,
Roger (Linda) Sherman,
Kevin (Lynnette) Sherman,
and Sandy (Claude "Mitch") Miller;
her extended siblings,
Bertha Darque,
and Camille Turner;
along with numerous extended family, friends, and neighbors.
Irene was preceded in death by her husband, George Heeren; her daughter, Micheala "Shelly" Lauer; her son-in-law, Timothy Lauer; her parents, Victor and Effie Crews and Elmer Cornwell; her brothers, Francis (Wenda) Crews and Berdette Crews; her sisters, Gertrude (Richard "Dick") Freeman and Elmerial "Dood" (Gene) Kelly; her in-law's, Frederick (Lena) Heeren; and her sister-in-law, Katherine Sherman-Hall.
Irene's family would like to thank the nurses and staff at Stonehill and Mercy Hospital for all of their professional and compassionate care. Irene's journey has not been easy over these last months and we are grateful for all of the wonderful care she has been given along the way to help her last days find moments of peace where and whenever possible. Thank you and may God bless you all for your kindnesses.
Online condolences may be shared with Irene's family at www.tristatecremationcenter.com
To honor Irene's life, a private family service will be held at a later date. Burial will be in the Dubuque Memorial Gardens Cemetery.
3 comments on "
Irene E. Heeren

"