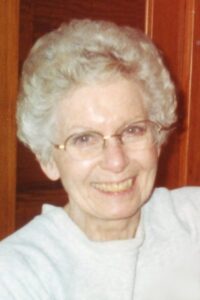 Obituary
Services
Condolences
Patricia C. "Pat" Driscoll, age 86, of Dubuque, IA, completed her earthly journey on July 16, 2022, suddenly at home. To honor Pat's life, her Mass of Christian Burial will be held on Saturday, Sept. 24, 2022, at 11:00 a.m., at Resurrection Catholic Church, 4300 Asbury Rd, with Father Phil Gibbs officiating. Family and friends are invited to visit for one hour prior to the service at the church. Burial will be in the Mt. Olivet Cemetery and all of Pat's family and friends are invited to join in food and fellowship at the Moracco Supper Club, 1413 Rockdale Rd, following the committal services. The Tri-State Cremation Center is humbly serving Pat's family.
Pat was born on March 11, 1936, in Dubuque, IA, a daughter to Francis J. "Frank" and Virginia "Jean" (Boland) Schumacher, Sr. She was a proud graduate of the St. Joseph's Academy and went on to spend the rest of her working years serving others as best she could. Pat spent many years working in the medical library at Mercy Hospital and made countless lasting friendships along the way. Upon retirement, she found herself volunteering primarily at the Carnegie Stout Library and the Mississippi River Boat Museum. Pat thoroughly enjoyed spending time with people and watching the children's eyes and imaginations light up when they were around her was truly satisfying and time well spent in her mind. Pat was a devoted mother and grandmother who showered each and every one of her family and friends with an endless supply of love and adoration. Her abilities in the kitchen were legendary and anyone who has ever been close to her in life knows that there was never a shortage of delicious cookies just waiting to be shared with anyone who passed through her day. Pat's crocheting needles rarely rested throughout her life and it's difficult to imagine just how many feet have been kept comfortably warm each winter due to her amazing booties which felt just like a perfectly warm cozy fire snuggled right around your toes even on the coldest of days. Her affinity for the beach and oceanside was also well known among her family and friends. Pat would scour the beach all day in search of the perfect shells to add to her ever-growing collection at home where the memories could be savored for years to come. Pat didn't mind a little solitude from time to time either though as it always gave her an opportunity to expand her intellectual horizons and catch up on her latest books, but she also especially enjoyed regular company and visits with her loved one's as she could catch up on their life's stories as well. We will miss our dear Pat more than any words could even begin to accurately depict, but we are also grateful for the wealth of beautiful memories which she leaves behind for us to treasure. Thank you, Pat, for simply being the wonderful woman that you were and may we carry your legacy forward with honor as we wait patiently to see your beautiful smile once again. May God bless you and keep you safe in His loving arms as you enjoy a most joyous reunion with all of your family members who've been called home ahead of you. God bless and God speed Pat!
Those left behind to cherish the memory of Pat include,
her four children,
Dan (Ellen) Driscoll, Shorewood, MN,
John (Sherri) Driscoll, Dubuque, IA,
Carla (Mark) Nelson, Buford, GA,
and Carolyn (Roy) Cooper, Kieler, WI;
her very special friend and family,
Tim (Allie) Saunders, Dubuque, IA,
and their children, Zoe, Sophia, and Oliva;
her five grandchildren,
Nicholas (Christa) Driscoll, Andrew (Marissa) Driscoll, Larissa (Eddie) Stokka, Joshua Driscoll, and Kaleah Driscoll;
her great-grandchildren,
Henry, Lauren, Brooks, Iris, Letty and Kai;
her brother-in-law,
James "Jim" Moeller, St. Cloud, MN;
her sister-in-law,
Pamela "Pam" Schumacher, Cape Coral, FL;
along with numerous extended family, friends, and neighbors.
Pat was preceded in death by her parents; her sister, Janet "Jan" Moeller; and her brother, Francis J. "Frank" Schumacher, Jr.
In lieu of flowers, memorials, cards, and other expressions of sympathy may be sent directly to the family C/O Carolyn Cooper, P.O. Box 124, Kieler, WI, 53812
Pat's family would like to thank all of the doctors, nurses and staff who have been helping Pat over these last couple of years, along with her dear friends at the Diamond Senior Apartments for their support, companionship and consistently above and beyond care of Pat. Also, a very sincere and heartfelt thank you must be given to her daughter, Carolyn, and her "adopted son", Tim Saunders, for all of their time, talents, patience and unwavering love they have blessed Pat with. To witness such truly altruistic character and behavior playing a consistent role in Pat's life has brought more peace to the minds of those who can only help from a distance when possible. May the Lord bless you all beyond measure for your kindnesses and have no doubt that Patty Smiles XOXO!
Online condolences may be shared with Pat's family at www.tristatecremationcenter.com
Visitation
Mass of Christian Burial
Committal
Celebration of Life
Visitation
Resurrection Catholic Church
4300 Asbury Road, Dubuque, IA, 52002
September 24th, 2022 from 10:00 AM to 11:00 AM
Mass of Christian Burial
Resurrection Catholic Church
4300 Asbury Road, Dubuque, IA, 52002
September 24th, 2022 at 11:00 AM
Committal
Mount Olivet Cemetery
10556 Military Road, Dubuque, Iowa, 52003
September 24th, 2022 at 12:30 PM
Celebration of Life
The Moracco Supper Club
1413 Rockdale Road, Dubuque, Iowa, 52003
September 24th, 2022 at 1:00 PM
6 comments on "
Patricia C. "Pat" Driscoll

"