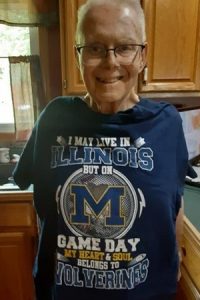 Obituary
Services
Condolences
The Reverend Roy Lewis of Galena died on Jan. 1, 2021 at his home. Roy was born on June 20, 1936 in Grand Rapids, MI to Guy and Viola (Morse) Lewis. He had one Sister, Harriett Lewis-Holwerda.
Roy attended Ferris State College and went on to Iliff School of Theology in Denver where he earned his Masters of Divinity. For most of his ministerial career, Roy served various Methodist Churches throughout the Rocky Mountain Conference where he met Nancy Glick, his wife, while serving in the Methodist Church in Aspen.
Roy and Nancy were united in marriage on May 18, 1985 in the Methodist Church in Galena. Roy and Nancy adopted two daughters, Natalie (Ohio) from Russia and Simina (Dubuque) from Romania. Roy also had a son, Dr Douglas (Beverly) Lewis and a daughter Kathy Lewis from his first marriage to Meredith Halbert.
Roy was an avid Michigan Wolverine fan and for games was totally decked out in Michigan attire. During games he would sit with his legs crossed in the direction of play to score. Breaks occurred only during commercials and half time. He also loved to fish, camp, golf, and ski (in an earlier day).
Surviving are his wife, Nancy, and daughters Natalie, Simina, and Kathy (Colorado), and a daughter in-law Dr. Beverly Lewis (Texas). He is also survived by 2 grandsons, Casey ad Ben (Kylee) and several great grandchildren.
Roy was preceded in death by his son, Dr Douglas, a grandson, Evan, a sister, Harriett, and his parents.
Due to COVID, there will be no service and a celebration of life will take place at a later date. The Tri-State Cremation Center is in charge of arrangements. Online condolences may be left at www.tristatecremationcenter.com
The family would like to thank Dr. Vandigo, Hospice of Dubuque, and our friends and relatives for their care and help. Memorials may be sent to Hospice of Dubuque, IA.
Due to COVID, there will be no service and a celebration of life will take place at a later date.
2 comments on "
Rev. Roy B. Lewis

"