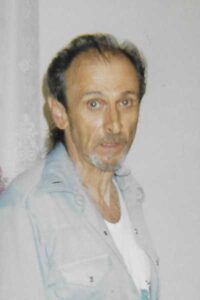 Obituary
Services
Condolences
Robert R. Oglesby, age 72, of Dubuque, IA, passed away on January 22, 2023, at Mercy Hospital in Dubuque. In memory of Robert's life, a Mass of Christian Burial will be held on Friday, January 27, 2023, at 11:00 a.m., at St. Patrick's Catholic Church, 1425 Iowa Street, with Father Herb Pins officiating. Family and friends are invited to visit in fellowship one hour prior to Holy Mass at St. Patrick Church. Burial will be in the Mount Calvary Cemetery in Dubuque. The Tri-State Cremation Center is humbly serving Robert's family.
Robert was born on August 3, 1950, in Dubuque, IA, one of thirteen children to Clarence C. and Catherine M. (Huber) Oglesby.
He spent the majority of his working years as a handyman, but Bobby was best known for his simple way of life and love for riding his bike around town. He was a talented and gifted artist, had a big heart where animals were involved, and he loved to cook. Robert had a natural gift for gab and visiting with family and friends was always a welcome way to pass the time. We will miss Robert and his gentle soul. May we have faith and hope to find peace eventually within the abundance of memories that he leaves behind.
Those left behind to cherish the memory of Robert include his four children, Peggy Joe, Bobbie, Jennifer, and Kristy Jo; and his fourteen grandchildren; his brother Harold (Ann) Oglesby, Dubuque, IA; and his sisters Darlene Oglesby, Dubuque, IA, Mary Oglesby, Dubuque, IA, and Margaret Oglesby, Dubuque, IA; and sister-in-law, Carol Oglesby, Dubuque, IA; and his numerous nieces and nephews; along with many extended family, friends, and neighbors.
Robert was preceded in death by his parents; his brothers, Gordon Oglesby, Larry Oglesby and his wife Shirley, Bill Oglesby, John Oglesby, Richard Oglesby, Frank Oglesby, and his sisters Marilyn Thomas, and Patricia Leytem; his two-year-old child, Billy Jo; and his nephew, Michael Oglesby, and his nieces Debbie Cashman and Jackie Fitzgibbons.
Robert's family would like to thank the nurses and staff at Mercy Hospital for all of their professional and compassionate care. Many thanks to Emily Vorwald.
Thank you, Bobby, for continually reminding us to keep life simple.
May The Lord bless thee and keep thee. The Lord show his face to thee, and have mercy on thee. The Lord turn his countenance to thee, and give thee peace.
In lieu of flowers please consider The Robert Oglesby Memorial Fund to be used for a series of 30 Holy Masses, known as Gregorian Masses. Robert Oglesby Memorial, PO Box 3306, Dubuque, IA 52004
Online condolences may be shared with Robert's family at www.tristatecremationcenter.com
Visitation
Mass of Christian Burial
Burial
Visitation
St. Patrick's Catholic Church
1425 Iowa Street, Dubuque, Iowa, 52001
January 27th, 2023 from 10:00 AM to 11:00 AM
Mass of Christian Burial
St. Patrick's Catholic Church
1425 Iowa Street, Dubuque, Iowa, 52001
January 27th, 2023 at 11:00 AM
Burial
Mount Calvary Cemetery
1111 Davis Street, Dubuque, Iowa, 52001
January 27th, 2023 at 12:00 PM
One comment on "
Robert R. Oglesby

"