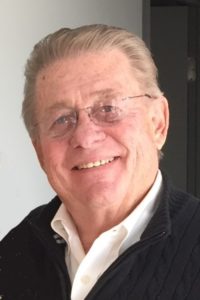 William Clifford Schneider, 76, of Apple Canyon Lake in Apple River, Oswego, and previously Batavia, Illinois, passed away on January 20, 2020 at Midwest Medical Center in Galena, Illinois.
Bill was born on June 10,1943, in Chicago, to William and Inez (Hager) Schneider. His parents moved the family to Arlington Heights into a home his father built. It was located north of where the paved streets and sidewalks ended, so Bill became one of the "country kids," living amidst fields and farms. It was where no one locked doors, and all the kids played together, building forts, climbing trees, riding bikes with fat tires, playing backyard baseball (trying to avoid the septic lines), and night-time hiding games. He attended two-room Wilson School, sometimes playing Hide and Go Seek in the corn rows on the way to and from. He, in his boots, once sunk into the spring mud and his mother had to come to pull him out. His parents moved again, to the south side where the streets were paved, and Bill attended the A.H. Junior High School.
Bill's family moved once more – this time the young man went west to California, where he experienced a brief culture shock. However, he did discover that he and his new best friend, Jim Granata (also a transplant), could create adventures from which they were lucky to survive. They both managed to graduate from La Habra High School in 1961.
During high school, Bill worked various jobs including building remodeling with his father. He didn't take it as seriously as expected, so alternately, one would get fired and the other would quit. Bill played both roles. Eventually, Bill relocated to Hawaii to work on high-rise construction projects, where he was accidentally knocked off an unfinished floor and sent to the ground, landing on his feet. When he set off to go back to work, he had to be forced to go to the ER for an exam. His work had become serious and of utmost importance. He also earned the respect and friendship of the Hawaiian workers. Some of them remain friends to this day.
After a few years, Bill returned to Illinois to help his Dad with another remodeling business, while his parents were there on extended stay during a family emergency. Bill quickly learned that the little blonde playmate and neighbor he had a crush on as a young boy had returned to the area from the east coast. And he found her. Their first date lasted 3 days, as he convinced her to join him and his parents for a Schneider family reunion in Nokomis, Illinois. He took her home after their date long enough to pack, go awaken his parents, and get on the road at 5 am. The rest is history. Bill proposed 2 months later, and Ali took another month to say yes. William Schneider and Alice Simmonds were married on May 15,1971 at St. John Evangelical Church in Arlington Heights, the same one in which they were confirmed together in 1957. Realizing that they could now leave their son in his bride's hands, Bill's parents immediately drove back to California after the ceremony. Two years later, Bill and Ali bought a "Handyman Special" first house in Arlington Heights that was just a mile or two from where they grew up. A few months later, Bill started a "side business" called Master Builder Construction with Mike and Burt Schell using an office in our back porch. This enabled them to replace the very old refrigerator which had one plywood shelf and a tiny box freezer. The company disbanded as Burt headed to med school, Mike went off to study law, and Bill remained – yet to discover pavers.
Bill and Ali planned to live in their house for up to five years, but that turned into ten. When the time came, Bill was totally immersed in the beginnings of LPS Pavement Co., now 44 years old, and currently located in Oswego, Illinois. His life passion became the creation and promotion of the paver industry in the U.S. In the early days, he had to educate potential clients, and convince engineers as well as general contractors that pavers and the installation system would succeed. He also did his own estimating and installations. He was clearly an entrepreneur who's pioneering eventually included forming Advanced Pavement Technology (APT) in 2002, a company specializing in permeable interlocking concrete pavement (PICP) design and specification. He created several trademarks and patents on permeable paver shapes as well as design of the Bio-Aquifer Storm System (BASS) that is the widely accepted PICP installation method used today. In 2010, Bill founded Aqua-Paving Construction (APC), a company specializing in PICP installation. Both APT and APC are located in Yorkville, Illinois.
Bill was very generous in sharing knowledge and ideas with others in the paver world. He offered his time and expertise to many who are now successful in the industry as installers, consultants, paver and equipment manufacturers, and those who provide tools and supplies. Many have said Bill was their mentor. He was a founder and the first instructor of the School for Advanced Segmental Paving. His hard work, sacrifice, and determination are the stuff from which legends are made. In 2014, Bill received the first Lifetime Achievement Award from the Interlocking Concrete Pavement Institute (ICPI), which he accepted as a much-appreciated honor. He was a charter member of the Institute, a member of the Board of Directors, Executive Committee, and held numerous other positions.
Eventually, in 1992, Bill and Ali bought a waterfront home on Apple Canyon Lake in northwest Illinois, and then a farm in Galena. When in the Chicago area for business, they have been able to stay in their townhouse in Oswego.
Aside from stretching out on the sofa to watch NASCAR on Sundays, Bill enjoyed fishing at Apple Canyon Lake, Cabo San Lucas, Mexico, or in shark tournaments at Dana Point, California. Hunting became a great source of pleasure and adventure, especially on trips to New Zealand (where he also bravely bungy jumped off a bridge), Alaska (he brought home an enormous moose mount and hung it over the piano) and Canada where he was able to take some of his children and grandchildren who will treasure the memories of fishing with Papa. His favorite way to de-stress was to be at his farm in Galena where he could mow for hours riding on his tractors while enjoying the wildlife and scenic views. Bill loved the big, annual 4th of July parties we had at the lake house, when he always roasted a hog. Holidays and events with family and friends brought him great joy. The boats on the lake, the ATVs and camping at the farm will provide enduring memories for Bill's children and grandchildren, as well as friends from as far away as Germany and Hawaii.
Through the years, Bill was a contributor to Marmion Academy and Rosary High School in Aurora, Illinois. He was a supporter of Tyler's Justice Center in Stockton, Cancer research, Wild Turkey Federation, and any fundraiser that involved his family. He also personally helped many relatives, employees, friends, and strangers through their trying times.
Recent years have been difficult as Bill's health issues have plagued him progressively, but he is now finally free from the restrictions with which he was living due to Frontotemporal Dementia. Bill recently suffered a stroke and passed away surrounded by the love of his family.
Those left behind to cherish his memory and carry on his legacy are his loving wife of over 48 years, Alice "Ali" Schneider, Apple River and Oswego, Illinois; his cherished children and grandchildren, David (Denise) Schneider, Corona, California, and their children, Jeremy, Travis, and Reed; Kristi (Scott) Gohl, Chesterfield, Virginia, and their children, Alexis, Hannah, and Jakoby "Jake"; Derek (Kristina) Schneider, Yorkville, Illinois, and their children, Nathan (Allie), Desirae, and William "Will"; Courtney Schneider Kennedy, Galena, and her daughter, Caitlin; his sisters, June (Jim) Cheshire, Clovis, California and Janet Ferguson, Chico, California; there were many who were "like a son" to Bill, but one who lived in our home and still in our hearts, Zachary (Kim) Wills and daughter, Faith, Dyersville, Iowa ; also numerous nieces, nephews, extended family, friends, and neighbors.
Bill was preceded in death by his parents; paternal grandparents, Frederick and Alice (Pontius) Schneider, Nokomis, Illinois; maternal grandparents, Olaf and Alma (Olson) Hager, Bagley, Minnesota; and brother-in-law, James Ferguson, Chico, California.
The family wishes to extend a heartfelt thank you to Roger Hudon, Elizabeth, Illinois, Larry Carmichael, Scales Mound, Illinois, and Steve Jones, Prior Lake, Minnesota, for their continued visits and calls as Bill's health declined. We also appreciate everyone who gave their sincere support to the family during this long and difficult journey.
We are grateful to Dr. Michael Green, Dr. Greg Vandigo, the nurses and staff at both Prairie Ridge Memory Care and Midwest Medical Center, of Galena, Hospice of Dubuque, especially Cindy, and to those at Vista Cafe for all their compassionate, professional, and gentle care of Bill and our family.
When Bill wanted to go someplace, he expected everyone else to be ready when he was. He would get into his vehicle and sit in the driveway with the engine running and horn honking, trying to speed things up. Well, you will just have to be patient this time, Bill, because we aren't ready to go with you. But, when we get there, we will all follow your Aqua-Bric pathway to find you.
In accordance with Bill's wishes, there has not been a visitation. There will be a Celebration of Life event to be held at a later date, which will be announced. We appreciate the kindness of Jason Schumacher of The Tri-State Cremation Center as he serves our family.
In lieu of flowers, the family requests that memorials be given to Hospice of Dubuque, or Midwest Medical Center of Galena.
Online condolences may be shared with Bill's family at www.tristatecremationcenter.com and please feel free to visit https://icpi.mynewscenter.org/paver-industry-father-passes/ to view Bill's professional trade newsletter notice.
3 comments on "
William C. "Bill" Schneider

"