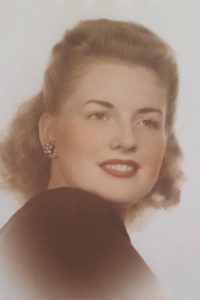 Obituary
Services
Condolences
Bernice Evelyn Beresford, age 92, of Dubuque, died Friday, November 27, 2020 at ManorCare. A service for family and friends will be held at 1 pm, December 12, 2020 via ZOOM. The Tri-State Cremation Center is humbly serving Bernice's family.
Bernice was born on June 10, 1928 in Dubuque, to Bart and Hilda (Johnson) Guler. Bernice spent her early years in the Dubuque area, working for Walgreens and enjoying her love of dance. She was an accomplished jitterbug dancer, spending many Friday nights at the Melody Mill perfecting the dance. In 1950 she married Donald Beresford, who was in the Navy, so she moved to New York City to be close to where he was stationed, and then to Great Lakes Navel station near Chicago where his Navy career concluded.
After moving back to Dubuque, she devoted her time to her family and to homemaking. She loved flowers (she had a yard full of them), baking pies and producing jams and jellies. Her greatest love though was her love for the bible. In 1955 she devoted her life to serving the god of the bible as one of Jehovah's witnesses. She spent uncounted hours sharing her faith and her knowledge of the bible with her friends, neighbors, and strangers and she held faithful to that course to the end.
She is survived by her children Edward (Cheryl) Beresford, Gary (Deborah) Beresford, Linda (Roger) Tischhauser, and Tom Beresford. Twelve grandchildren, Nathan, Hannah, Naomi, Leah, Kevin, Jodie, Layla, Rachel, Matt, Jake, Tyler, and Sadie, along with numerous great-grandchildren, nieces, nephews, siblings Lucille Kachevas and Doris Huber and sister-in-law Ruth Guler
She was proceeded in death by her parents, husband Donald, sister Janette Freisinger, brother Clarence Guler, daughter Susan Schetgen, grandson Tobey Tischhauser, great grandson Devon Henkel, and great grand daughter Marley Rose Tischhauser, brothers-in-law, Wayne Freisinger, Peter Kachevas, and Richard Huber.
Memorials may be given to Hospice of Dubuque or ManorCare in Dubuque. The family would like to give a special thanks to all the staff at ManorCare for their wonderful care of Bernice and to Hospice of Dubuque for their care of Bernice.
Memorial Service on Zoom


December 12th, 2020 at 1:00 PM