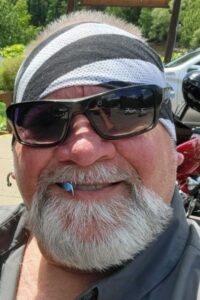 Obituary
Services
Condolences
David "Cowboy" Mielcarek, age 53, of Boscobel, WI, finished his last ride on August 10, 2023, at home while surrounded by his loving family. To honor Dave's life, his Celebration of Life will begin at 2:00 p.m., on Saturday, September 23, 2023, at the Bunker, 29224 Evergreen Drive, Waterford, WI. David's wishes were to celebrate and not weep. Please come and help us celebrate this great man. The Tri-State Cremation Center is humbly serving Dave's family.
Dave was born on February 4, 1970, in Williamsburg, MO, a son to Robert Lee Mielcarek and Connie Louise (Krause) Exner. He was born with a strong work ethic, a love for family and friends, and an appreciation for all that is good in this life. David honorably served his country with the U.S. Army until 2006 and was also a loyal member of the American Legion.
He spent his working career as an operating engineer and made many friends throughout his years with them. He was a faithful member of the Operating Engineers Local #139 and was proud of his union and the men and women who stood alongside him.
In his free-time, he was an avid Harley rider and never missed the opportunity to hit the road, traveling regularly with family and friends. Dave always enjoyed any opportunity to get out in the outdoors, especially if a little hunting or fishing was involved.
Cowboy's devotion to his family and friends was second to none and his unwavering commitment to bring out the best in everyone around him was also continually on display. We will miss Dave, his straightforward outlook on the world, and his bright light that shined through each day. We pray now that he is free from his earthly battles and finds eternal peace as we all wait to join him again one day. Thank you, Dave, for being exactly the man we all needed you to be and may your legacy live on vividly within the hearts and minds of all who knew and loved you.
Don't bury me up in that cemetery
Where I'm just a name on a stone
Scatter part of me in that mountain stream
Take me to the woods
Where I can be part of a sapling
Then my cremation can become creation
An oxygen emanating tree, breath giving and free
Cast me to the winds
So I can fly with the eagles
Spread me around, off that Harley we love.
Let me live, to be shared, to feed the air.
Save some of me to mingle with my love and together we'll rejoin on that old creek bed.
Those left behind to cherish the memory of Dave include,
his loving wife,
Cathryn "Cat" Hammes, Boscobel, WI;
his children,
Devin Mielcarek, Burlington, WI,
Alexander Hammes, Burlington, WI,
Sarah (Jamie) Faulkner, Boscobel, WI,
and Sandy Hammes, Wheatland, WI;
his granddaughter,
Trinity Weber;
his parents,
Robert Mielcarek, Kansasville, WI,
Connie (Krause) Exner, Burlington, WI;
his sister,
Christy Mielcarek, Kansasville, WI;
his grandmother,
Charlotte Krause, Burlington, WI;
his nephews,
Jack and Ryan Shenkenberg, Kansasville, WI;
along with numerous extended family and friends.
Dave was preceded in death by his sister, Melissa Jorgenson; and his nephew, Timmy Jorgenson.
Online condolences may be shared with David's family at www.tristatecremationcenter.com
Celebration of Life
The Bunker
29224 Evergreen Drive, Waterford, WI, 53185
September 23rd, 2023 at 2:00 PM
2 comments on "
David W. "Cowboy" Mielcarek

"