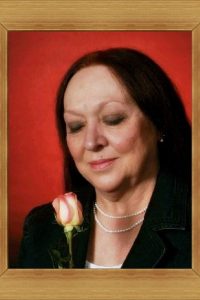 Obituary
Services
Condolences
Dona Marie Klug, age 71 of Dubuque, Iowa, completed her earthly journey on July 18, 2020, at home in the loving arms of her husband. To honor Dona's life, a private family service is being held. The Tri-State Cremation Center is humbly serving Dona's family.
Dona was born on June 19, 1949, in Baltimore, Maryland. In time, she would make her way to the San Antonio area where she finally met her soul-mate, Edward Klug, and the two of them have been inseparable ever since. They were united in marriage on December 24, 1997, and eventually made their way to the Dubuque area to work and settle down for their remaining years. Dona was an amazing wife and homemaker and never let her hands grow idle over her lifetime. She indulged her natural artistic abilities in both painting and sculpting, but was also content to sit down at her sewing machine and create a little magic there as well. Dona was also quite talented in the kitchen and even her left-over's were as delicious as the original serving. She was gifted with a very green thumb too, and there's not a free space in the home, or yard, where you can't observe her tender attention to all things living. Which brings us to her love of horses, dogs, and cats. Dona had raised quarter-horses in her earlier years, but has recently brought that same affection inside her home with her beloved Chow Chow, and his 3 feline compadres. Dona's heart was always open to all that was good, but stir up her Irish vigor and you would often find more than you were looking for. Life was not easy for Dona, many heart-breaks and aches have found their way into her days, but Dona was relentless on focusing on the good and didn't allow the negative to control her way of life. We will miss our beautiful Dona more than she could ever imagine and we pray that she is resting safely in God's arms until we meet her again.
Those left behind to cherish the memory of Dona includes,
her adoring husband of 23 years,
Edward Klug, Dubuque, Iowa;
along with her four, favorite fur-babies.
Dona was preceded in death by her 2 children.
Dona's family would like to thank the nurses and staff at St. Croix Hospice for their compassionate care and support.
Online condolences may be shared with Dona's family at www.tristatecremationcenter.com
To honor Dona's life, a private family service is being held.
4 comments on "
Dona Marie Klug

"