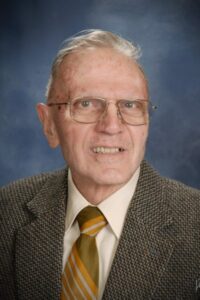 Obituary
Services
Condolences
Edmund A. "Bud" Steppan, Jr., age 89, of Dubuque, IA, completed his earthly journey on April 27, 2023, at Stonehill Care Center while surrounded by his loving family. To honor Bud's life, a Mass of Christian Burial will be held on Saturday, May 6, 2023, at 10:30 a.m., at St. John the Baptist Catholic Church, 241 Peosta Street, Peosta, IA, with Father Scott Boone officiating. Family and friends are invited to join in fellowship for two hours prior to the service at the church. Burial will be in the church cemetery in Centralia. The service will be livestreamed on the Parish's Facebook page at https://www.facebook.com/stelizabethpastorate for those who cannot physically attend. The Tri-State Cremation Center is humbly serving Bud's family.
Bud was born on November 1, 1933, in Chicago, IL, a son to Edmund and Cecilia (Cynova) Steppan, Sr. He grew up surrounded by family and friends and developed early on a love for life and the most important fact that we cannot take it all too seriously. Bud went on to proudly serve his country with the U.S. Army during the Korean War. He eventually met the love of his life, Rosemarie Westney, and the couple was united in marriage on February 17, 1962. They were blessed with many wonderful years together and four sons. He possessed a strong work ethic and spent many years with Victor Comptometer and Great Lakes in Chicago, before he and Rosemarie moved to Dubuque where he completed his working years with W.C. Brown Publishing. Bud was also a faithful member of St. Benedict's Church in Chicago, and St. John the Baptist Church in Peosta throughout his years. Bud was the walking embodiment of a dry sense of humor combined with a sarcastic twist. His quips were quick and always ready at moment's notice and if there was ever an opportunity to share his lighter side of life attitude with those around him, you could be sure that he was going to take it in true Bud fashion. He enjoyed music, especially Mitch Miller and a good polka song, and was also perfectly content to listen to the Cubs play while relaxing in the yard with a cold Old Style. Bud was an avid photographer over his years and thoroughly enjoyed the new innovations in the photography world as life progressed. He was also a semipro level do-it-yourselfer who always took great pride in his accomplishments and was willing to share his talents whenever a new challenge presented itself. But first and foremost, Bud was an excellent husband, father, and grandfather who strived to leave his legacy behind working actively within the lives of those he truly loved and adored. His commitment was tried and true and he continually led by example. We will miss Bud more than words could accurately depict and we are beyond grateful for the years the Lord was generous enough to share his light with us. Thank you, Bud, for being the man we all needed you to be and may the peace and rest of the Lord be with you now as we wait patiently to see you again.
Those left behind to cherish the memory of Bud include,
his loving wife of 61 years,
Rosemarie Steppan, Dubuque, IA;
his four sons,
Ed (Anne) Steppan, III, St. Anne, IL,
Tim (Angela) Steppan, Hartford, S.D.,
Bob Steppan, Bolingbrook, IL,
and Bill (Jenny) Steppan, Dubuque, IA;
his five grandchildren,
Tim (Rachel) Steppan, Kevin (Hannah) Steppan, Mark Steppan, Amber (Mark) Dye, and Vivian Steppan;
his three great-grandchildren,
Freya Steppan, Greta Steppan, and Isabella Dye;
his sister-in-law,
Kay Steppan, Chicago, IL;
along with numerous extended family, friends, and neighbors.
Bud was preceded in death by his parents; his sister, Mary Ann (James) Nimietz; and his brother, Dan Steppan.
Bud's family would like to thank the nurses and staff at Stonehill and Hospice of Dubuque for all their professional and compassionate care of Bud and his family. Your devotion and concern have truly made some of the more difficult days we've had to face just a little more bearable and for that we are eternally grateful.
Online condolences may be shared with Bud's family at www.tristatecremationcenter.com
Visitation
Mass of Christian Burial
Visitation
St. John the Baptist Catholic Church
241 Peosta Street, Peosta, Iowa, 52068
May 6th, 2023 from 8:30 AM to 10:30 AM
Mass of Christian Burial
St. John the Baptist Church
241 Peosta Street, Peosta, Iowa, 52068
May 6th, 2023 at 10:30 AM
3 comments on "
Edmund A. "Bud" Steppan

"