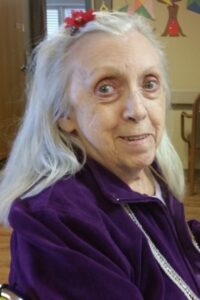 Obituary
Services
Condolences
Ellen A. "Allie" Jones-Davis age 84 formerly of Cuba City and Hazel Green WI passed away Wednesday March 22, 2023, at Orchard Manor Nursing home in Lancaster, WI.
A Celebration of Life with a luncheon will be held Saturday April 29, 2023, at the American Legion Hall, 413 E. Calhoun St, Cuba City, WI from 11:30 to 1:30.
Ellen was born August 15, 1938, the youngest child of Ivan and Josephine (Kastonek) Jones. She grew up on the family farm in Mt. Hope, WI riding horses and playing with her dogs. She graduated from Boscobel High School and attended UW Platteville where she received her teaching certificate. She later returned to UW Platteville to earn her BA in Education.
Ellen spent her career working as a teacher and as a C.N.A. After her retirement she continued teaching as a substitute teacher at many local schools. She loved teaching and believed every child could learn you just had to teach the way they were able to learn.
Ellen loved animals. She grew beautiful flower beds every year. She was a ferocious reader; her favorites were Western novels and Native American history. She enjoyed listening to music and could often be heard singing along. Her favorites were Elvis and Mel Tillis. One year for Mother's Day her daughter surprised her with tickets to see Mel Tillis in concert where he dedicated a song to her, and she got to meet him in person after the concert.
Together with David G. Davis (deceased) of Dubuque, IA she had her daughter Jody.
Ellen is survived by her daughter Jody Davis-Waechter and son-in-law Douglas Waechter of Cuba City, WI. A Sister-in-law Lynette Jones, Dane WI. Along with many nieces and nephews.
She was proceeded in death by her parents, her brothers Leland (Lee) (Anna) Frank, Orville (Pete) (Rita) Frank, Edward (Ed) (Arleta) Frank, William (Bill) Jones, John (Hod) Jones, Robert (Bob) Jones. Her sister Adeline (Addy) (Parke Jr) Gelbach.
Per Ellen's wishes the family requests no flowers.
"If you can't give me flowers when I'm alive to enjoy them I don't want them from you when I'm dead" Ellen
A Memorial Fund has been established.
The family wishes to say a very special Thank You to the staff at Orchard Manor, especially the Memory Care and Activities for their loving care and always making Ellen Beautiful, she loved all of you. Thank you to the staff, at the former Epione Pavilion especially Kathy B for your dedicated care of Ellen.
Celebration of Life
American Legion Hall
413 East Calhoun Street, Cuba City, WI, 53807
April 29th, 2023 from 11:30 AM to 1:30 PM