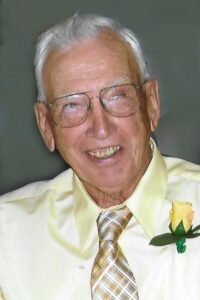 Obituary
Services
Condolences
Gerald (Jerry) N. Arensdorf, age 97, of Dubuque, IA, completed his earthly journey on April 28, 2023, at Luther Manor while surrounded by his loving family. To honor Jerry's life, a Mass of Christian Burial will be held at 10:30 a.m., on Saturday, July 15, 2023, at St. Columbkille's Catholic Church, 1240 Rush Street in Dubuque, with Father Tom McDermott officiating. Family and friends are invited to join in fellowship 9:00am to 10:15 at the church. Burial will be in the Mount Olivet Cemetery in Dubuque. The Tri-State Cremation Center is humbly serving Jerry's family.
Jerry was born on November 29, 1925, in LaMotte, IA, to Henry and Anna (Heiar) Arensdorf. He grew up with a strong work ethic and a determination to make the most out of life. He was united in marriage to his beautiful bride, Rita Manderscheid, and the couple was blessed with seven children and many wonderful years together until she was sadly called home in 2010. Jerry and Rita raised their family together on the farm for over 60 years where many wonderful memories and life lessons were learned along the way. He was the maintenance MAN at Anderson Weber for 25 years and was able to continue to share his Jack of All Trades skills with his friends there until he finally retired in 1994. Jerry was a longtime and faithful member of St. Columbkille's Parish. The 10:00am Sunday Mass could not happen unless he was there to usher. He enjoyed the opportunity to lead by example and valued the ability to instill some of life most important traits into his family. Jerry never met a challenge he couldn't face. We will miss his presence in our daily lives but are forever grateful for the legacy he leaves behind. May the Lord bless you and keep you until we all meet again.
Those left behind to cherish the memory of Jerry include, his six children, Sue (Mike) Kennedy, Ken (Christy) Arensdorf, Howard (Sandy) Arensdorf, Angie (Bob) Burdett, Jeff (Robin) Arensdorf, and Terry (Anita) Arensdorf; his eighteen grandchildren; his twenty-three great-grandchildren; his great-great-grandchild; his special friend, Marion Welter; his sister-in-law, Pat Arensdorf; along with numerous nieces, nephews, extended family and friends.
Jerry was preceded in death by his parents; his wife, Rita; his son, David; his 10 brothers and sisters; along with 7 brothers and sisters-in-law.
Jerry's family would like to thank the nurses and staff at Luther Manor and Hospice of Dubuque, especially Kourtney, for all of their professional and compassionate care for "Jerr Bear".
Memorials may be given to St. Columbkille's Catholic Church, Hospice of Dubuque or the Alzheimer's Association.
Online condolences may be shared with Gerald's family at www.tristatecremationcenter.com
Visitation
Mass of Christian Burial
Burial
Visitation
St. Columbkille's Catholic Church
1240 Rush Street, Dubuque, Iowa, 52003
July 15th, 2023 from 9:00 AM to 10:15 AM
Mass of Christian Burial
St. Columbkille's Catholic Church
1240 Rush Street, Dubuque, Iowa, 52003
July 15th, 2023 at 10:30 AM
Burial
Mount Olivet Cemetery
10556 Military Road, Dubuque, Iowa, 52003
July 15th, 2023 at 12:00 PM