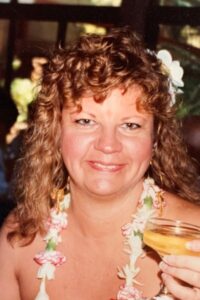 Obituary
Services
Condolences
Jauquetta L. "Jack" Schmiedeskamp, age 71, of Dubuque, IA, formerly of California, completed her earthly journey on December 19, 2021, at home, surrounded by her loving family. To honor Jack's life, a private family service is being held. The Tri-State Cremation Center is humbly serving Jauquetta's family.
Jack was born on October 5, 1950, in Tyler, TX, a daughter to Chester and Harline (Rooks) Holloway, Jr. She was a very gifted and talented artist from an early age and would discover countless ways to share her gifts with the world throughout her entire life. Jack was a committed teacher who always appreciated the opportunity to help others develop their skills as well. She enjoyed everything from porcelain art to drawing to cake decoration and sugar art. Jack absolutely excelled in every medium she ventured into to and her love for the craft never faded. She had her very own art corner at the Santa Clara County Fair each year and enjoyed showing the intrigued onlooker's how many of the finished products they were looking at had actually come to life. Jack had a natural ability to visualize the finished pieces in her mind's eye and thoroughly enjoyed moving step by step through the process until others could eventually see what she had seen from the beginning. She was a proud member of the Santa Clara Valley Porcelain Artists, the International Porcelain Art Teachers, the California Association of Artists, along with the Isaac Walton League of Dubuque, and the NRA-Dubuque Chapter. But, creating magical works of art that others could enjoy for years, or making a cake that looked just like an authentic cowboy hat just sitting on the table was not enough for Jack. She also enjoyed reading extensively and putting together 5-star meals for everyone to enjoy at the dining room table. Jack's talents in the kitchen were second to none. She had honed her skills watching Julia Child during the original black and white days and could recreate almost any meal she came across. Jack was an inspired spirit who embraced life on so many levels that it was actually difficult to keep up with her forward momentum at times. She savored the good things in life and didn't allow the trivial things to impact her world when they tried. Jack will be forever loved and adored by all who knew her and the beautiful memories which she leaves behind will help to ease the pain as we begin to move into this new reality without Jack's light helping to brighten our way as well. Thank you, Jack, for teaching us to see beyond the surface and to always be sure to look a little deeper to potentially discover the real moments at hand. May God bless you and keep you safe in His loving arms until we all meet again.
Those left behind to cherish the memory of Jack include,
her loving husband,
James "Jim" Tonjum, Dubuque, IA;
her children,
Suzanne M. "Suz" Noeller, and her husband, Brian Noeller, of Hughson, CA,
Andrea R. "Andii" Schmiedeskamp, of San Jose, CA,
Blair Reagan, and her husband, Trenton, of Patton, MO,
Brooke Tonjum, Fredericktown, MO,
Spencer Tonjum, Cape Girardeau, MO;
her grandchildren,
Olivia Gleason, Cheyenne Tonjum, Hayden Reagan, Elizabeth Reagan, and Ivan Reagan;
her brother,
Gary Swenchonis, and his wife, Deborah, of Goliad, TX;
along with numerous extended family, friends, and neighbors.
Jack was preceded in death by her parents; her nephew, Gary Swenchonis, Jr. NF U.S.S. Cole; and her cousin, Sunny Rhodes, Richardson, TX.
Jack's family would like to thank the nurses and staff at Hospice of Dubuque for all of their compassionate and professional care through these most difficult days. Your patience and kindness have made more of a difference in our hearts and minds than you could ever know.
Online condolences may be shared with Jack's family at www.tristatecremationcenter.com
To honor Jack's life, a private family service is being held.
One comment on "
Jauquetta L. "Jack" Schmiedeskamp

"