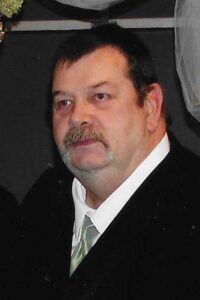 Obituary
Services
Condolences
Joseph M. "Joe" Gilbertson, age 72, of Kieler, WI, completed his earthly journey on Nov. 3, 2022, at ManorCare while surrounded by his loving family. To honor Joe's life, his Celebration of Life will be held at 2:00 p.m. on Sat. Nov. 12, 2022, at Journey Church, 3939 Pennsylvania Ave. in Dubuque, with Pastor Terry Bemis officiating. Family and friends are invited to join in fellowship from 1-2 p.m. prior to the service at the church. Full military honors will be accorded by the Dickeyville VFW, Post 6455. The Tri-State Cremation Center is humbly serving Joe's family.
Joe was born on August 5, 1950, in Dubuque, IA, a son to Merlin L. and Annabelle (Duve) Gilbertson. His love for life, his family, and his Lord and Savior were as big as his heart and continually on display throughout his 72 years among us. Joe honorably served his country with the U.S. Air Force. He eventually found his soul-mate, Rebecca "Becky" Jones, and the two were united in marriage and blessed with 48 wonderful years together and two wonderful children. Joe worked at John Deere and Eagle Window & Door for many years, but owning two Bubba Burgers was where he truly found his joy in his working years. Joe was also a naturally gifted artist and spent countless hours painting and expressing his talents whenever and wherever possible. He also enjoyed a crisp morning in the woods hunting with family and friends, as well as an afternoon on the golf course, or even a little time challenging his skills and the competition around the pool table with various leagues over the years. Joe loved attending the Farmer's Market visiting with new and old friends whenever he could. Singing was also an important part of Joe's life and whether it be a little Karoke, or praising his Creator from the church pew, Joe was surely in his happy place. But, anyone who knew and loved Joe knew that his greatest joys in life were centered around his family. Time spent with his wife, children, and grandchildren by his side was one of his greatest joys. His love was endless and his determination to share that blessing brought continual satisfaction to his heart and mind. We will miss Joe, his larger-than-life personality, and his unwavering devotion to those he loved. Our hearts are beyond broken today with the mere thought of his absence, but we know and trust that Joe is now safely home in the loving arms of Jesus, his Savior and in this secure Hope we rejoice and find peace.
Those left behind to cherish the memory of Joe include,
his beautiful bride,
Becky Gilbertson, Kieler, WI;
his two children,
Dana (Dave) Weidenbacher, Cedar Falls, IA,
and Joe (Chrissy) Gilbertson, Lake Ozark, MO;
five adored grandchildren,
David, Chris, Alex, Brock, and Faith;
seven great-grandchildren,
Riley, Jonathan, Lucy, Sawyer, Isaac, Ezra, and Margo
his sisters,
Linda Lottus, Dubuque, IA,
Judy Trowbridge, Dubuque, IA,
and Bonnie (Eric) Timmerman, Durango, IA;
along with numerous extended family, friends, and neighbors.
Joe was preceded in death by his parents; his grandson, Collin Weidenbacher; and his sister, Ann Huseman.
Joe's family would like to thank the nurses and staff at ManorCare, Hospice of Dubuque and the V.A. for all of their professional and compassionate care of Joe, and his family.
In lieu of flowers, a Joseph M. Gilbertson memorial fund has been established.
Online condolences may be shared with Joe's family at www.tristatecremationcenter.com
Visitation
Celebration of Life
Full Military Honors
Visitation
Journey Church
3939 Pennsylvania Avenue, Dubuque, Iowa, 52002
November 12th, 2022 from 1:00 PM to 2:00 PM
Celebration of Life
Journey Church
3939 Pennsylvania Avenue, Dubuque, Iowa, 52002
November 12th, 2022 at 2:00 PM
Full Military Honors
Journey Church
3939 Pennsylvania Avenue, Dubuque, Iowa, 52002
November 12th, 2022 at 2:45 PM
5 comments on "
Joseph M. "Joe" Gilbertson

"