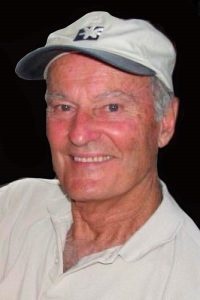 Obituary
Services
Condolences
Karl E. Rohnke, age 83, of Galena, Illinois, completed his earthly journey on September 20, 2020, at home in the tender care of his loving wife. To honor Karl's life, a private family service is being held. A Celebration of Life is being scheduled in 2021 with the details to be determined. The Tri-State Cremation Center is humbly serving Karl's family.
Karl was born on May 28, 1937 in Neptune, New Jersey, the only son of Rear Admiral Oscar C. Rohnke and Gladys (Kutcher) Rohnke. Karl graduated from Washington & Lee University (Lexington, VA) in 1960 and then served two drafted years in the U.S. Army. This was followed by four years of teaching outdoor education in the Southern California area where he met and courted Gloree Certoma.
Since that time, Karl has been an important "player" in the field of experiential/adventure education. He was a watch officer at Hurricane Island Outward Bound in Maine in 1967, and chief instructor at North Carolina Outward Bound where he and his bride were married in 1969. In 1971, he left Outward Bound to become one of the founders of the Project Adventure program in Hamilton, MA, and worked there continuously until 1996. During his employment with Project Adventure, he developed a reputation as an innovative teacher and program developer. He continued on as director and president of the organization. Afterwards, Karl co-founded the High 5 Learning Center in Brattleboro, Vermont.
Karl's creative and experiential facilitation style laid the foundations for adventure program development for individual and team growth in schools, colleges, corporations, camps, therapy, and elder education. Play, challenge, fun, and laughter were tools to enhance learning experiences whether in indoor and in outdoor settings. He became known as the "Father of rope course construction" ultimately opening the way for low and high rope and cable elements that incorporated problem-solving, teamwork, and self-awareness. Somehow during his busy schedule he wrote curricula books to enhance the resources for participants. His contributions to the experiential education field were recognized through multiple awards and an Honorary Doctorate of Humanities in 1977 was granted by Unity College in Maine.
Karl's fun-loving, adventurous, and determined spirit would mentor many colleagues and students in ingenious programmatic education. Even in early retirement, Karl continued to travel worldwide presenting clinics about the use for games and initiative problems as applied to various pedagogic applications. Later, Karl found hiking backwoods trails or a little time kayaking on the Mississippi River to being a most joyous event in his free-time. Karl made friends wherever he went and the opportunities for joy and fun which he always left behind continue to bring forth wonderful memories to all who participate in his visions yet today.
Several years ago, Karl found himself facing a new type of obstacle course. He became fully engaged learning about his diagnosis and managing the degenerative effect of Lewy-Body Dementia. It would be his final challenge. The trials and tribulations were as difficult as any he had ever faced, but he resisted the entire time and met head-on the constant challenges. We will miss our master of adventure as he now finds release from his earthly struggles. Thankfully, the plethora of memories he leaves behind can now help heal all of the saddened hearts who will miss his kind and gentle soul. Thank you, Karl, for showing us that life is so much more than just the day-to-day grind we sometimes accept. Until we meet again, may you walk in peace.
Those left behind to cherish the memory of Karl include his loving wife of 50 years, Gloree Rohnke, Galena, Illinois;
his 4 children: Matthew Rohnke, Peabody, Massachusetts; Drew (Kathy Foster) Rohnke, Delray Beach, Florida; Kali Rohnke, Fullerton, California; and Kurt Rohnke, San Diego, California;
and Karl's three adored grandchildren: Corin Rohnke, Scarlett Rohnke and Ryan Rohnke; along with global extended family of colleagues, and friends.
Karl was preceded in death by his parents.
In memory of Karl, memorials may be made in his name to:
Caring Bridge.org.
The Brain Support Network, PO Box 7264, Menlo Park, CA 93026 or at www.brainsupportnetwork.org;
Lewy Body Dementia Association,
912 Killian Hill Road, S.W.
Lilburn, GA 30047. Or https://www.lbda.org/donate/
Karl's family would like to thank the following for all of their professional and compassionate care for Karl, and his family.
Dr. Teresa Mangin, Neurologist, and her nursing staff, UW Health.
Dr. Christopher Stille, Medical Associates, his nurses and his staff.
Thank you Karl's home health aide, Marianne Trenhane, CNA.
Social Worker, Sarah Rogers and Palliative Care physicians, Veterans Administration, Madison, Wisconsin.
Thanks to Dr. Garrett Mortenson and his nurses and staff.
Other attending Medical Associates doctors and staff.
UW Health Hospital Neurology doctors and nurses.
Midwest Medical Center doctors and nurses.
MercyOne Medical Center doctors and nurses.
And deep appreciation for the nurses and staff at Hospice of Dubuque.
Online condolences may be shared with Karl's family at www.tristatecremationcenter.com
To honor Karl's life, a private family service is being held. A Celebration of Life is being scheduled in 2021 with the details to be determined.
6 comments on "
Karl E. Rohnke

"