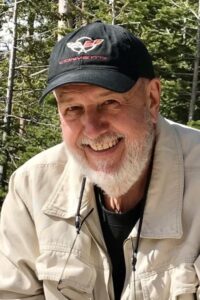 Obituary
Services
Condolences
Konrad Werner Voigt was born in July of 1951 to Adeline and Werner Voigt. He passed away on February 8, 2023, at the age of 71, while residing at Stonehill Communities Memory Care. To honor Konrad's life, a private family service is being held at a later date. The Tri-State Cremation Center is humbly serving Konrad's family.
Konrad was an independent thinker and best described as a consummate car guy. He was passionate about auto racing, and watching the Indy 500 was a favorite past time. He also enjoyed woodworking and tinkering with all things mechanical.
Konrad owned and operated Werco, an auto parts and repair shop, for 26 years before retiring to Dubuque, IA. He longed for a slower paced life near the Mississippi River where he could sit and watch the barge traffic slowly making its way down the river.
In 2014 Konrad married Diane, his long time companion of ten years, and moved their family to their dream home on a bluff above the river. Konrad, Diane, and their daughter, Hannah, spent the next few years happily exploring and learning about Dubuque.
Konrad is survived by his loving wife, Diane, and devoted daughter, Hannah. Former spouse, Marlene Kurland; son, Matt (Erika) Voigt; and grandchildren, Everest and Leonardo Voigt. Sister, Margaret Kamarchevakul; nephews, Andy and Rich Kamarchevakul; and niece, Megan Kamarchevakul.
Konrad was preceded in death by his parents, and his brothers, Steven Voigt and Michael Voigt.
Online condolences may be shared with Konrad's family at www.tristatecremationcenter.com.
To honor Konrad's life, a private family service is being held at a later date.
2 comments on "
Konrad W. Voigt

"