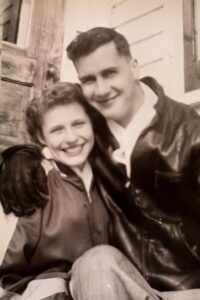 Obituary
Services
Condolences
Mary C. "Dolly" Meyer, age 90, of Dubuque, IA, completed her earthly journey on March 29, 2023, at Luther Manor in Dubuque. To honor Mary's life, a private family service is being held. The Tri-State Cremation Center is humbly serving Mary's family.
Mary was born on April 25, 1932, in Dubuque, IA, a daughter to Albert and Theresa M. (Vogt) Becker. She was first and foremost a wonderful wife, mother, and grandmother. Mary's love for her family came in second to nothing in her world and the hours spent with her grandbabies were some of the most precious moments of her life. Mary had met the love of her life, Alfred "Budda" Meyer when they were young and the couple was united in marriage on September 2, 1950. Sadly Al was called home ahead of Mary on April 7, 2017, and her heart has been beyond broken with his absence ever since. It brings all who knew and loved Mary some peace during this difficult time knowing that she is now reunited with her true-love, along with her other family members who have been awaiting her arrival. Mary was a genuinely kind and generous woman who was always there to help out anyone in need. Her heart was a big as her glowing smile and the positive impact she so effortlessly had on the world around her will surely live on in the hearts and minds of her loved ones. Mary was a master when it came to baking, knitting, and sewing, but she also enjoyed a her flower gardens as much as she valued the opportunity to decorate for each season that came around. We will miss our beloved Mary more than words could possibly articulate, but we are forever grateful for the 90 years the Lord was willing to share her with us. Thank you, Mary, for leading by example in all of your words, thoughts, and actions and may your heavenly reunion you are experiencing now bring you the joy you have sought over these last years.
Those left behind to cherish the memory of Mary include,
her children,
Deb Baker,
Kris (Jeff) Hamel,
Daniel Meyer,
Julie (Dave) Cummings,
and Tressa (Dennis) George, all of Dubuque, IA;
her grandchildren,
Meggan (Ken) Miller,
Nick (Tara) Baker,
Hayley (Ben) McAuliffe,
Ben (Robin) Hamel,
Pete (Angie) Hamel,
Michael (Katie) Cummings,
Cassie (Dan) Wagner,
Zach George,
Allison (Bill) Hinton,
Alex (Ressie) George,
and Maddi (Kenny Hintz) George;
her eighteen great-grandchildren;
her sister-in-law,
Sylvia Park, Moline, IL;
along with numerous extended family, friends, and neighbors.
Mary was preceded in death by her parents; her husband, Alfred "Budda"; her daughter, Cindy; Dan's fiancé, Beth English, along with three brothers and one sister.
Mary's family would like to thank Dr. Ries, along with the nurses and staff at Mercy, Luther Manor, and Hospice of Dubuque for all of their care and support. We would also like to extend a sincere and heartfelt thank you to Mary's special angel, Dan, for all of his devotion and commitment over the years with Mom.
Online condolences may be shared with Mary's family at www.tristatecremationcenter.com
To honor Mary's life, a private family service is being held.
6 comments on "
Mary C. "Dolly" Meyer

"