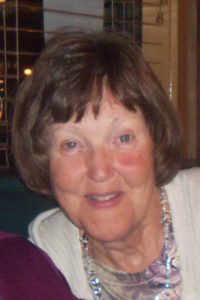 Obituary
Services
Condolences
Mary Jo "Jody" Beauchamp, age 77 of Dubuque, Iowa completed her earthly journey on August 9, 2019, at Stonehill Care Center, with her loving husband of 58 years by her side. To celebrate Jody's life, a private family service is being held. Burial will be in the Linwood Cemetery in Dubuque. The Tri-State Cremation Center is humbly serving Jody's family.
Jody was born on October 6, 1941 in Muscatine, Iowa a daughter to Ralph and Dorothy (Danner) TeStrake. She was raised to appreciate the value of family from a very young age and her entire 77 years among us were spent perfecting that mission. Jody had spent a few of her early years working with the Milwaukee School of Engineering and American States Insurance, but once it was time for her family of her own to begin, she began the greatest career achievement of her life; wife and mother. She eventually met her true-love, Lynn Beauchamp, and the two courted for 4 years while they worked on building their future lives together. They were united in marriage on June 11, 1961 and have never looked back since. They built a wonderful home together in Dubuque where they would raise their 2 boys and continually nurture them to put others before themselves. Jody continually found great pride in being the best wife, mother and grandmother she could offer to those she loved.
Jody enjoyed the outdoors and any opportunity to get the bike out, jump in the boat for the afternoon, or even lace up her favorite walking shoes and head out towards the hiking trails was naturally considered to be a good day. In the fall, she was always found in front of the TV during any Viking football game, cheering on her favorite team. She was also a very talented seamstress who could create anything with a supply of fabric, a little thread and a sewing machine at her fingertips. But mostly what Jody waited patiently for was the time she would get to spend with her friends in their John Deere Card Club. Over the years they would spend a little less time playing cards and a little more time visiting, traveling and bonding over some of the simple pleasures in life. Jody had a fun-loving spirit and was always up for a good laugh. The world is a little darker place today without her bright light shining among us, but we know and trust that the Lord will keep her safe in His loving arms until we see her smiling face once again. Thank you, Jody, for all of the beautiful memories you have left us to help heal the broken hearts we must carry forward today and thank you for simply being you.
Those left behind to cherish the memory of Jody include,
her husband,
Lynn Beauchamp, Dubuque, Iowa;
her 2 sons,
Brad (Vanessa) Beauchamp, Scottsdale, Arizona,
and Randy (Deb) Beauchamp, Laveen, Arizona;
her 6 grandchildren,
Tyler, Sierra, Soraka, Brianna, R.J. and Kenny;
her brother,
Mark (Julie) Bice, Phoenix, Arizona;
her sister-in-law,
Phyllis TeStrake, Grafton, Wisconsin;
along with numerous nieces, nephews, cousins, extended family, friends and neighbors.
Jody was preceded in death by her parents, Ralph (Vi) TeStrake and Dorothy (Elbert) Bice; and her brother, John TeStrake.
Jody's family would like to thank Dr. Cynthia Konz, along with nurses and staff at Stonehill and Hospice of Dubuque for all of their professional, compassionate and sincere care of Jody, and her family.
Online condolences may be shared with Jody's family at www.tristatecremationcenter.com
To celebrate Jody's life, a private family graveside service is being held at Linwood Cemetery in Dubuque.
One comment on "
Mary Jo "Jody" Beauchamp

"