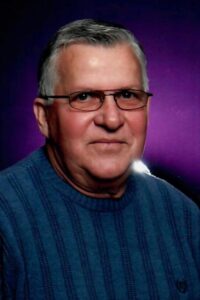 Obituary
Services
Condolences
Michael J. "Mike" Arthofer, age 81, of Peosta, IA, completed his earthly journey on Thanksgiving Day, Nov. 25, 2021, at home while surrounded by his loving family. To honor Mike's life, a graveside service will be held on Wednesday, Dec. 1, 2021, at 10:30 a.m., at the St. Catherine's Cemetery with Rev. Dianne Grace officiating. Full military honors will be accorded by the Dubuque Marine Corps League. The Tri-State Cremation Center is humbly serving Mike's family.
Mike was born on October 20, 1940, in Dubuque, IA, 1 of 7 children to Peter and Charlotte (Finzel) Arthofer. Mike always knew that his personal drive and determination would lead him to find success in every venture and dream that he chased. He began by honorably serving his country with the U.S. Navy. Mike was united in marriage to his beautiful bride, Mary "Mazie" Steffen, on October 27, 1962, and the two of them have spent their lives together united in one common front; nurturing a loving family. Mike provided for his family by investing over 37 years with the Interstate Power Company before retiring. His years there brought him great pride as he had started at an entry-level position and climbed to the top before completing his mission there. He spent 17 years on the Interstate Power Credit Union Board of Directors and was a Quarter Century Club inductee. Mike and Mazie enjoyed traveling after his retirement. When home, he enjoyed operating his own business, Arthofer Lawn Repair, and found the time to spend 20 years working with his friends at the H&J Auction Company. Mike was a good and decent man who always put his family and friends first. He took the things that truly mattered in this life seriously and always knew how to keep his heart at home. We will miss Mike's joyful spirit, bountiful laugh, and passion for all that was good. Thank you, Mike, for leaving behind such a positive legacy for your generations left behind to follow and we pray that your reunion with your family, especially Michelle, brings you more joy than you could have imagined after your last 15 years battling Parkinson's. May God bless you and keep you safely in His loving arms.
Those left behind to cherish the memory of Mike include,
his loving wife of 59 years,
Mary "Mazie" Arthofer, Peosta, IA;
his son,
Mark (Marian) Arthofer, Dubuque, IA;
his 5 grandchildren,
Kayla (Derrick) Edmondson, Ben (Jenny Young) Arthofer, Sara (Zach) Klostermann, Andrea (James Davis) Arthofer, and Natalie (Jeremy) Schultz;
his 4 great grandchildren,
Jayla Westhoff, Carter Arthofer, Layla Edmondson, and Brett Klostermann;
his in-law's,
Judith "Judi" Arthofer, Dubuque, IA;
Dick Burns, Des Moines, IA;
Bob (Melinda) Steffen, Asbury, IA,
Gary (Patti) Steffen, Cascade, IA,
Phil (Vicki) Steffen, Bernard, IA,
Connie Steffen, Dubuque, IA,
and Robert Kirby, Key West, IA;
along with countless extended family, friends, and neighbors.
Mike was preceded in death by his parents; his daughter, Michelle Arthofer; his siblings, James "Jim" Arthofer, Rosie (Ben) Greenwood, Betty (Joe) Donahue, Charles "Chuck" (Joyce) Arthofer, Elsie Burns, and Boniface "Bunny" Arthofer; his father and mother-in-law, Bernard and Betty Steffen; and his in-law's, Tom Steffen, Jane Kirby, and Carol Steffen.
In lieu of flowers, donations may be made to Hospice of Dubuque. Mike's family would like to invite family and friends to join them at the graveside to help them say farewell for now, until we meet again.
Mike's family would like to thank Dr. McKenna and his staff, along with the staff at Hospice of Dubuque for their compassionate care. A very special thank you to Cathy Waddick and Sue Herrig, personal care givers for Mike.
Online condolences may be shared with Mike's family at www.tristatecremationcenter.com
Graveside Service
St. Catherine Cemetery
5213 St. Catherine Road, Dubuque, Iowa, 52003
December 1st, 2021 at 10:30 AM
5 comments on "
Michael J. "Mike" Arthofer

"