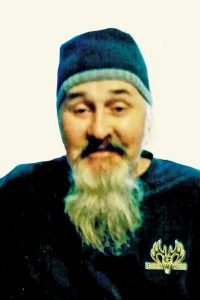 Obituary
Services
Condolences
Nyle Labe Cooper, age 65, of Dubuque, Iowa, completed his earthly journey on October 4, 2020, at home, with his beautiful soulmate by his side. To honor Nyle's life, a reception and Celebration of Life for his family and friends will be held on Wednesday, October 7, 2020, from, 11:00 a.m. until 3:00 p.m., at Nyle and Patricia's home located at 1020 West Locust Street in Dubuque. The Tri-State Cremation Center is humbly serving Nyle's family.
Nyle was born on October 9, 1954, in Camp Kilmer, New Jersey, a son to Nyle Clinton and Anna Rose (Piscitelli) Cooper. Nyle would quite often describe himself as an Army Brat who eventually found his way into a life of stable and loving kindness. He continually put others before himself and simply made his way through each and every day in a manner that would show those around him that he not only cared about them, but also actively participated in the role he played in doing so. His greatest joys included spending time with his family and friends and watching his own children grow up to be happy and successful in life. Nyle thrived on watching the unmitigated joy in other's live become a reality right before his eyes. Riding through the cold rain on his way to McDonald's in order to provide a comfortable home for Patricia was never deemed as a burden, but rather an honor he could bestow upon her. His commitment to family and friends was unshakable and his appreciation for the simple and real moments in life was always on display. When the work-day was done, Nyle could regularly be found with a guitar pick, or drum sticks in his talented hands while working diligently through his favorite rock songs of the day. His quick wit and contagious sense of humor were never far behind and his goal of placing joyful smiles on the faces of those around him was usually met with success. We are going to miss our kind and gentle giant moving forward, but thankfully we will be forever grateful for all of the treasured memories he has left us to call upon during the toughest days. Thank you, Nyle, for teaching us that each day holds endless possibilities to make them just as we would wish and may the peace of the Lord be with you until we meet again.
Those left behind to cherish the memory of Nyle include,
his loving partner in life,
Patricia Gullotto, Dubuque, Iowa;
his 2 children,
Collin (Wylan) Cooper, Irvine, California,
Holly Faires, Bakersfield, California;
his grandchildren,
Amelia, Josie, Mason, Alani, Ethan and Brodey;
along with numerous extended family, friends, and neighbors.
Nyle was preceded in death by his parents.
Nyle's family would like to thank Dr. Hermann, his nurses and staff, along with the nurses and staff at Hospice of Dubuque, for all of their professional and compassionate care of Nyle, and his family. These past weeks have been some of the most difficult we have ever had to face, and we cannot imagine being able to navigate even one day of them without our earthly angels who have been walking alongside us hand in hand the entire way. May the Lord bless you all for your mission of love and mercy!
Online condolences may be shared with Nyle's family at www.tristatecremationcenter.com
Celebration of Life
Nyle and Patricia's Home
1020 West Locust Street, Dubuque, Iowa, 52001
October 7th, 2020 from 11:00 AM to 3:00 PM