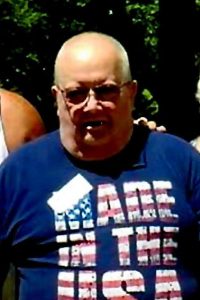 Obituary
Services
Condolences
Patrick E. "Chubbs" Fishnick, Sr., age 71 of Dubuque, Iowa, completed his earthly journey on June 5, 2020, at home, surrounded by his loving family. To honor Pat's life, a Celebration of Life for Pat will be held on Monday, June 15, 2020, from 11:00 a.m. until 2:00 p.m., at the American Legion Hall, 1306 Delhi Street in Dubuque. Burial will be in the Dubuque Memorial Gardens Cemetery, where full military honors will be accorded by the Dubuque American Legion, Post #6. The Tri-State Cremation Center is humbly serving Pat's family.
Pat was born on April 30, 1949, in Dubuque, Iowa, one of 6 children to Bernard L. and Edna L. (Davis) Fishnick. He was a proud graduate of Dubuque Senior High School and was united in marriage to his soul-mate, Carolee A. Blakeman, on August 30, 1969, just before leaving to honorably serve his country with the U.S. Army, 2nd Battalion, 1st Artillery Division in Vietnam. Upon returning home, Pat spent 10 years with the John Deere Dubuque Works before eventually investing over 28 years of his working career with Eagle Window and Door. He happily retired in 2011 and was able to now spend much more free-time within his favorite endeavors in life. A few hours at the bowling alley, especially Fisher Lanes where his first 700 series pin still resides on the wall, was always a welcomed adventure in the day. Pat also enjoyed sitting around the card table with family and friends, laying all of the correct cards in the correct order until the victory was his. He was also known to occasionally try his luck at the casino with his bride by his side. But, truth be told, any opportunity to have his friends and family around him was always on his short list of ways to make his day a successful one. Pat was personally driven to continually be himself in all areas of life, and his integrity was as solid as a rock. We will miss him more than he could have ever known, but we do find peace in the fact that we were able to share the many enjoyable years with him as he walked among us. Thank you, Pat, for your open and honest character and may peace from your earthly struggles be yours until we meet again.
Those left behind to cherish the memory of Pat include,
his loving wife of 50 years,
Carolee Fishnick, Dubuque, Iowa;
his 5 children,
Ronald L. (Becky Johnson) Fishnick, Dubuque, Iowa,
Patrick E. (Dara) Fishnick, Jr., Fort Myers, Florida,
Todd A. Fishnick, Rockford, Illinois,
Stacy L. (Scott) Puccio, Dubuque, Iowa,
and Eric M. (Stephanie) Fishnick, Des Moines, Iowa;
his 9 grandchildren,
Katy Fishnick, Taylor Fishnick, Lauren Fishnick, Jacob Fishnick, Ava Fishnick, Sarah Fishnick, Madison Fishnick, Eric Fishnick, Jr. and Lily Fishnick;
his 5 siblings,
Bernie (Karen) Fishnick, Tennessee,
Mike (Betty) Fishnick, Dubuque, Iowa,
Cherie (Jerry) Pickel, Dubuque, Iowa,
Rick (Deb) Fishnick, Dubuque, Iowa,
and Jerry (Laurie) Fishnick, Potosi, Wisconsin;
along with countless extended family, friends, and neighbors.
Pat was preceded in death by his parents; his sister, Kimberly, in infancy; and his mother and father-in-law, Sarah Blakeman and William Blakeman.
Pat's family would like to thank nurse, Jen, and the staff at Hospice of Dubuque for all of the professional and compassionate care they have provided to Pat, and his family, during these difficult days.
Online condolences may be shared with Pat's family at www.tristatecremationcenter.com
Celebration of Life
American Legion Hall
1306 Delhi Street, Dubuque, Iowa, 52001
June 15th, 2020 from 11:00 AM to 2:00 PM
5 comments on "
Patrick E. "Chubbs" Fishnick, Sr.

"