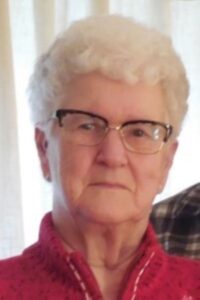 Obituary
Services
Condolences
Pauline M. Meyer, age 90, of Dubuque, IA, completed her earthly journey on May 28, 2022, at home surrounded by her loving family. Per Pauline's request, a private family service will be held at Mt. Calvary Cemetery in Dubuque, IA. The Tri-State Cremation Center is humbly serving Pauline's family.
Pauline was born on March 14, 1932, in Dubuque, IA, a daughter to Frank and Crescentia (Wathier) Bechen. She grew up in the Lamott area and was raised by her Aunt Clara Hingtgen and Cousin Justin Hingtgen. Pauline and Harlow L. Meyer were married February 18, 1952, and celebrated 70 years this year. She worked at the Dubuque Stamp retiring in 1997.
Those left behind to cherish the memory of Pauline include,
her loving husband of 70 years,
Harlow L. Meyer, Dubuque, IA;
her two daughters,
Victoria "Vickie" (Jim) Oldham, Peosta, IA,
and Rhonda (Steve) Curler, Walford, IA;
her four grandchildren,
Heather (Joe) Lefevre, Chad (Amy) Oldham, Matt (Courtney) Curler, and Abby (Brett) Foreman;
her three great-grandchildren,
Camber Oldham, Leo Lefevre, and Olive Lefevre;
her sister,
Zita Elgin;
her sisters-in-law,
Darlene (Loras) Flynn,
and Gerry (Walt) Hutchinson;
and her brother-in-law,
David Meyer.
Pauline was preceded in death by her grandson, Nicholas Curler; her parents; her aunt Clara Hingtgen and cousin Justin Hingtgen; her brothers, Richard , Bob, Olin, and Frannie; her sister, Ruth Becker; brother-in-law, Merlin Meyer; and sisters-in-law, Shirley Kennedy, Janann McPoland, and Donna Moore.
Pauline's family would like to thank all of the staff at Eagle Point Place for all of their excellent love and care of mom over the past few years. We would also like to express a special thank you to the nurses and staff at Hospice of Dubuque, especially Jeremiah, Ryan and Amber, for not only providing mom with such wonderful care, but for also touching all of our hearts sincerely along the way.
Online condolences may be shared with Pauline's family at www.tristatecremationcenter.com
Per Pauline's request, a private family service will be held at Mt. Calvary Cemetery in Dubuque, IA.
One comment on "
Pauline M. Meyer

"