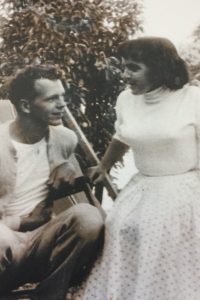 Obituary
Services
Condolences
Richard E. Walton, age 83, of Dubuque, Iowa, completed his earthly journey on December 16, 2020, at ManorCare in Dubuque. To honor Richard's life, a private family service is being held. Burial will be in the Mount Calvary Cemetery in Dubuque. The Tri-State Cremation Center is humbly serving Richard's family.
Richard was born on May 22, 1937, in Joplin, Missouri, a son to Robert and Adena (McFarland) Walton. Richard honorably served his country with the U.S. Army while stationed in France. He proudly completed his detail working in the bomb/weapons recovery division on the beaches of Normandy. Richard met the love of his life, Yvonne, while overseas and the two were united in marriage on November 24, 1956, in LaRochelle, France. The love-struck couple were blessed with 6 adored children, and 52 wonderful years together before Yvonne was sadly called home ahead of him in 2008.
Upon returning back to the states to rejoin civilian life, Richard decided that he would provide for his family by navigating the highways across the country in his 18-wheeler. He was not only a proud union steward throughout his career, but he also received his million-mile safety award patch before eventually retiring from H & W Trucking. Richard set an enduring and amazing example for all of the generations behind him to follow. His passion for family and hard work never wavered and knowing that his legacy was observed consistently by everyone he loved reassured his confidence that we would all be in good hands as the last lone monarch of the Walton family had to say good-bye for now.
Richard was a loving father and grandpa who embraced all that life had to offer. He was an avid bass fisherman who thoroughly enjoyed our unlimited access to the Mississippi, but truth be told, his greatest desire in this world was to watch, see and hear his family make their way through each day knowing that his strong and sturdy shoulders would always be there to encourage, support, and even push in with them whenever needed. Our hearts possess and unmendable break today as we watched Covid 19 deal the final insult to Richard's years long battle with health issues. We find peace and comfort in trusting that he is spending his favorite holiday, Christmas, with his beautiful bride once again, and in knowing that his only final wish was for us to stay safe while saying "You kids have a steak on old Dad" when you can. Thank you, Richard, for the resilient spirit you leave behind for us to embrace and may the Lord keep you all securely in His loving arms until we meet again.
Those left behind to cherish the memory of Richard include,
his children,
Tilly (Russ) Frommelt, Dubuque, Iowa,
Jean-Pierre Walton, Dallas/Fort Worth, Texas,
Jerome (Debbie) Walton, Dallas/Fort Worth, Texas,
and Richard E. (Shelly) Walton II, Dallas/Fort Worth, Texas;
his grandchildren,
Jessica (Matt Hepperly) Breitbach, Nicole Breitbach (and her dog, Juno), Xyavier and Lauresa Walton, Billy-Joel Walton, Yvette (Bill) Dumond, Joshua Walton, Richard Walton III, Emily Walton, Johanna Walton, Yvonne (Roy) Taveras, and Melissa Walton;
his great-grandchildren,
Amelie, Keaton, Lela, Deshaun, Anthony, and Gabby;
his sister,
Tillie (Kelly) Pruitt, Tulsa, Oklahoma;
his extended family,
Tim Giellis, Spring Walton, Paul Walton, Mary Ann Walton Gaylord, Cindy (Pat) Burkhart, Dave (Yoshiko) Walton, Sandy Smith, Patricia Smith, Donna Walton, Rob E. Walton, and Emily (Joshua) Patterson;
along with countless other extended family, friends, and neighbors.
Richard was preceded in death by his parents; his loving wife, Yvonne Walton; 2 sons, Christopher Jon Walton in 2009, and his earthly angel, Dominique Paul Walton in 2016; his siblings, Donald Walton, George Walton, Bobby Walton, Mary Johnson, Martha Harlow, Anna Jane Brinsky, and Janet Walton; and his extended family members, Anna McCann, Andrea Walton, Elizabeth Walton, Mike Smith, and Mildred Walton.
In memory of Richard, memorials may be made to the Veteran's Freedom Center Endowment, C/O The Veteran's Freedom Center, 2245 Kerper Boulevard, Dubuque, Iowa, 52001.
Richard's family would like to extend a very sincere thank you to the nurses and staff at ManorCare, Tri-State Dialysis, Paramount Ambulance, and the Jule for continually gracing Richard with their professional and compassionate care. Also, to Dr. Whalen for his commitment to medicine and his enduring nature which he shares so generously with his patients. Please know that your dedication, loving support, and uncompromising concern will never be forgotten and may God continually bless all of you for your kindnesses!
Online condolences may be shared with Richard's family at www.tristatecremationcenter.com
To honor Richard's life, a private family service is being held. Burial will be in the Mount Calvary Cemetery in Dubuque.
5 comments on "
Richard E. Walton

"