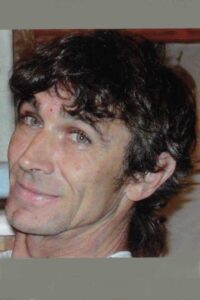 Obituary
Services
Condolences
Robert "Bear" Moore, teller of stories, believer in miracles, train enthusiast, contractor, steel guitar player, lover of life, wife and family passed peacefully on February 13, 2023 at home with loved ones by his side. He will remain forever in our hearts.
Robert's journey began July 5, 1956, the second son to Norma Hammerand and Earl Moore. When he arrived home as an infant, his brother Richard Moore asked "why does he have bear eyes?", and he was known as Bear from that day forward. Bear grew up in Sherrill, IA, with brothers Richard (Carla) and Tom (Diane), sisters Sallie and Linda. His many adventures began early and his siblings have many stories to share.
With a huge and overflowing heart, family was at the center of Bear's life. He married his magic, Jeanne Roerig, on May 22, 1987. Father to daughters Joann (Grant Brown) Moore, Natalie Morrigan and Jessica (Tom) Helbing and son Cory (Janel) Moore, sharing laughter and creating memories became his passion. His first instinct was to always ensure everyone was taken care of, putting others needs ahead of his own. He did this for his family, friends and also those he worked with.
After being a self-employed contractor for nearly 20 years in Dubuque, IA, Bear and his family moved to Kendallville, IN in 1998. He ran a crew for Shawnee Construction, quickly gaining a list of clients who requested "Bob" for all of their jobs. He loved to do construction on nursing homes so he could make friends with the elderly residents.
Grandchildren brought a welcomed joy to Bear's life, along with his nieces and nephews. He made each of them feel special with the nicknames he bestowed. Hailey Runde (Nate Tomkins), also known as Dutchie, was the first to call him Grandpa Bear. Maddison "Tilldy" Moore, Nate "Popper" Moore, Kendra "Keka" Helbing and Cooper "Coopie" Helbing were delighted to spend time with Grandpa. Nieces and nephews include Michelle Boyer, William Moore, Elicia Hennings, Lis Burnette, Holly Walker, Heather Scharding, Jill Stewart, Travis Eurit, Jeff Lambert, Kayla Hartman, Noelle Day, Jenna Hatzenbuhler, Christopher Blong, Brandon Ostrander, Mallory Potter, Shelby Hoffman, Ben Hoffman, Clinton Roerig, Scott Roerig, Clifford Roerig, Madeline Roerig, Kathleen Snyder. In-laws Janice and Don Blong, Diane and Jeff Baker, Roxanne Ostrander, Steve and Jeanette Roerig, Kathy Stecklein, Angela Neuhaus, Shelby Stecklein and numerous cousins also played an important role in Bear's life.
Before Bear learned of his cancer, he was blessed with great-granddaughter Scarlett, a joyful reminder of life. With the support of dear friends and family, he fought his cancer courageously, continually inspiring other patients along the way. The unwavering encouragement of dear friends Rob and Suzanne Severinac, Denise and Jim Lemish, Pete and Mary Husemann, and Bill and Angie Bressler will never be forgotten.
The family sends a huge thank you to the Fort Wayne Cancer Center. A private celebration of life will be held Saturday, February 18, 2023. Condolences can be posted online at www.tristatecremationcenter.com or sent to the Tri-State Cremation Center, East Dubuque, IL.
A private celebration of life will be held Saturday, February 18, 2023.
4 comments on "
Robert C. "Bear" Moore

"