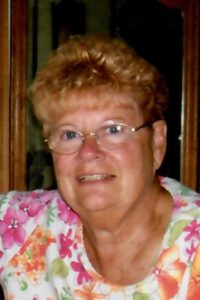 Obituary
Services
Condolences
Shirley A. Frommelt, age 82, of Hazel Green, Wisconsin, completed her earthly journey on April 6, 2021, at home, surrounded by her loving family. To honor Shirley's life, a private family service is being held. The Tri-State Cremation Center is humbly serving Shirley's family.
Shirley was born on January 20, 1939, in Dubuque, Iowa, the daughter to John and Arletta (Henning) Speaker. She learned from a very early age which of the moments in life would truly bring her joy throughout the rest of her journey; family, friends, animals, and the outdoors. Shirley met the love of her life, Roger Frommelt, in high school and the couple was eventually united in marriage shortly after in 1958. Within a year they had found a beautiful homestead in the country where they raised their family and enjoy each and every day to the fullest. Shirley spent over 20 years working outside of the home at Loras College, but she would willingly admit that her heart was always at home through each and every day. Shirley always had a special place in her heart for her beloved pets, especially Toby and Kiki, but her horses would take a 2nd place to none as well. She always enjoyed the rodeo years with the kids when they were younger and the memories they made still bring a smile and a chuckle to those sitting around the table reminiscing yet today. Shirley's most treasured times were spent camping, fishing, and lounging in the sun with her family and most cherished friend, Rita. After over 40 years of practice, Shirley was never quite able to perfect her cast, but with her positive and dedicated character, she was more than ecstatic to cast her pole in anytime. Shirley loved and adored her family and friends with the full might of her being. Her heart was as big as it was kind, compassionate, and gentle with a touch of spice, too. Thankfully, the collection of wonderful memories she leaves behind today will help to heal the broken hearts of all who knew and loved her. It's difficult to imagine facing the days ahead without our strong and fun-loving matriarch at the helm, but we trust that the Lord will keep her safe in His loving arms until we meet again. Thank you, Shirley, for teaching us that some of the most valuable lessons in life can also be some of the most rewarding. We will continue to carry your warmhearted spirit with us by loving ever so deeply, laughing often, and always taking time to stop and enjoy the little things. "In life, we loved you dearly, in death we love you still. In our hearts you hold a place, no one else will ever fill." Until we meet again.
Those left behind to cherish the memory of Shirley include,
her loving husband of 62 years,
Roger Frommelt, Hazel Green, Wisconsin;
her 4 children,
Tim (Becky) Frommelt, Hazel Green, Wisconsin,
Russ (Tilly) Frommelt, Dubuque, Iowa,
Robin (Denny) Dimick, East Dubuque, Illinois,
and Cory (Odetta) Frommelt, Hazel Green, Wisconsin;
her grandchildren,
Ben Frommelt, Jesse Frommelt, Devon Dimick, Jalee Frommelt, Cody (Brittany) Frommelt, Alea (Chase) Lynch, Michael Frommelt, and Crystal (Steve) Beighley;
her great-grandchildren,
Riley Frommelt, Mason Leib, Gavin Frommelt, Landon Frommelt, Kylin Lynch, Ian Frommelt, Melanie Beighley, Braelin Beighley, and another on the way;
her dearest friend,
Rita Vogt, Dubuque, Iowa;
along with numerous extended family, friends, and neighbors.
Shirley was preceded in death by her parents.
Shirley's family would like to thank the nurses and staff at Hospice of Dubuque for all of their professional and compassionate care of Shirley, and her family.
Online condolences may be shared with Shirley's family at www.tristatecremationcenter.com
To honor Shirley's life, a private family service is being held.
3 comments on "
Shirley A. Frommelt

"