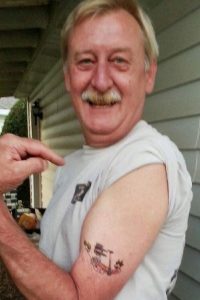 Obituary
Services
Condolences
Theodore J. "Ted" Meyer, age 63 of Dubuque, Iowa, completed his journey on earth May 25, 2020, at home, surrounded by his loving family. To honor Ted's life, a Celebration of Life will be scheduled at a later date. The Tri-State Cremation Center is humbly serving Ted's family.
Ted was born on June 2, 1956, in Dubuque, Iowa, one of nine children, to Lowell and Mary Agnes (Kretschmer) Meyer. He was raised to appreciate the values of love and respect for family and friends, coupled with an unrivaled work ethic. He spent his free time, as a teenager, learning his trade at The William C. Brown Publishing Co. His career there lasted over 35 years as an electrician, even through the multiple changes of ownership. He finally retired in 2010 with a sense of accomplishment and great pride.
Ted was never the type of man who could sit still very long. Whether he was working on his '55 Chevy in his garage or tackling the next project around his house, Ted's hands never laid idle. He spent his downtime watching his favorite drivers, Dale Earnhardt Sr. and Jr., lead the pack around the NASCAR track. Ted's personal drive in life carried him to a place of true contentment with a deep knowledge on how to have a good time.
Our hearts are broken and numb today as we face the sad reality that our genuinely kind and compassionate father, grandfather, great-grandfather, son, brother and friend has left us behind. We know that the abundance of memories he left us with will help us through the most difficult days until we are reunited once again. Thank you, Ted, for leading by example as we watched you show us how it's done.
Those left behind to cherish the memory of Ted include,
his two children,
Gretchen (Fran Krier) Meyer, Cedar Rapids, Iowa,
and Ben (Nicole) Meyer, East Dubuque, Illinois;
his four grandchildren,
Austin (Jackie Roosa) Meyer, Brandon Meyer, Cassie Meyer, and Derek Meyer;
his two great-grandchildren,
Marcie and Teddy Violet;
his mother,
Mary Agnes Meyer, Dubuque, Iowa;
his five siblings,
Mark (Jenny) Meyer, Dubuque, Iowa,
Maggie Hoffman, Dubuque, Iowa,
Dave (Joan) Meyer, Dubuque, Iowa,
Steve (Sally) Meyer, Dubuque, Iowa,
and Tom (Codi) Meyer, Dubuque, Iowa;
his sisters-in-law,
Rose Meyer, North Liberty, Iowa,
and Beverly Meyer, Madison, Alabama;
along with countless extended family, friends, and neighbors that he loved and cherished.
Ted was preceded in death by his father Lowell "L.J." Meyer; three brothers, Jeff Meyer, Doug Meyer, Rick Meyer; and a brother-in-law, Dave Hoffman.
Ted's family would like to thank Jane and Maggie for all of their time, patience and enduring love which was shared so generously with Ted as he battled multiple health problems over the past few years. Your kindness is appreciated more than we could ever express.
Online condolences may be shared with Ted's family at www.tristatecremationcenter.com
To honor Ted's life, a Celebration of Life will be scheduled at a later date.
6 comments on "
Theodore J. "Ted" Meyer

"