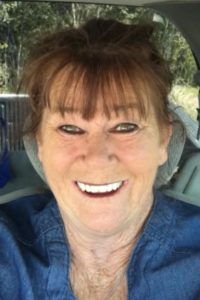 Obituary
Services
Condolences
Theresa M. Sawvell, age 61, of Dubuque, Iowa, completed her earthly journey on February 25, 2020, at home, surrounded by her loving family. To honor Theresa's life, her Celebration of Life will be held on Friday, March 20, 2020 at Happy's Place, 2323 Rockdale Road in Dubuque, beginning at 5 p.m. The Tri-State Cremation Center is humbly serving Theresa's family.
Theresa was born on December 15, 1958, in Joliet, Illinois, a daughter to Ken and Audrey (McLaughlin) Elliott. She was lovingly raised by them, and her step-father, Bob Krause, all while being surrounded by her brothers and sisters. Theresa was a fun-loving and caring woman who only strived to make the most out of this life. Over the years, she has used her time and talents in many ventures; including as a school bus driver for the Western Dubuque Community School District, as an owner and operator of the Copper Kettle and Fisherman's Wharf, along with managing the housekeeping department at the Holiday Inn.
She had married Allen Sawvell on March 3, 2003, in Dubuque, and they were blessed with 18 years together. Whether they were spending the weekend around the campfire, wandering about the woods in search of their next geode, or working in the flower gardens in the yard, life was good when Theresa was outdoors enjoying the splendor of God's creation. Theresa had even found the time to become an ordained minister in recent years and was only waiting patiently for the ability to implement her new skills when the opportunity would present itself. Ultimately though, Theresa was a beacon of love for all living things for people to see. Her love for her dogs was only outweighed by her love for family. Her children and grandchildren were everything to her and any time she was able to spend with them was always considered to be time well spent. We will miss Theresa with all of our hearts, but we accept that her recent health struggles were going to require a little more fighting, and Theresa would rather find eternal peace after years of fighting already. We will hold every memory deeply and dearly until we see her again and may we find moments of simple healing as we walk through the days ahead.
Those left behind to cherish the memory of Theresa include,
her loving husband of 18 years,
Allen Sawvell, Dubuque, Iowa;
her 6 adored children,
John (Wanda) Lamey, Bernard, Iowa,
Joshua (Ashley) Lamey, Graf, Iowa,
Jolene (Jesse) Spahn, East Dubuque, Illinois,
Jedediah (Ashlee Eaves) Lamey, Bernard, Iowa,
Jordan (Brittany Walenczyk) Lamey, Dubuque, Iowa,
and Jeremiah (Cheyanne Seymour) Lamey, Bernard, Iowa;
her 10 grandchildren,
Keagan Lamey, Breanna Lamey, Kalynn Lamey, Olivia Lamey, McKinley Spahn, Merritt Spahn, Jase Eaves, Jagger Lamey, Riley Lamey and Lilli Trenkamp;
her siblings,
Steven (Linda) Connors, Morris, Illinois,
Ken Elliott, Dubuque, Iowa,
Thelma (Ray) Breitsprecker, Dubuque, Iowa,
Toni (Joe) Heitman, Guttenberg, Iowa,
Doug (Barb) Krause, Waverly, Iowa,
Jennifer (Brad) Heath, Cedar Falls, Iowa;
her sister-in-law,
Linda Elliott, Lake Charles, Louisiana;
her step-father,
Bob Krause, New Hampton, Iowa;
along with numerous nieces, nephews, extended family, friends and neighbors.
Theresa was preceded in death by her parents; her sister, Tracy Elliott; and her brother, Bob Elliott.
Theresa's family would like to thank the nurses and staff at Hospice of Dubuque, along with all of our family and friends who have also provided an abundance of love and support during these very difficult days. We couldn't have made it through without you and Theresa's heart felt peace at her passing because of your compassion and kindness. Thank you!
Online condolences may be shared with Theresa's family at www.tristatecremationcenter.com
Celebration of Life
Happy's Place
2323 Rockdale Road, Dubuque, Iowa, 52003
March 20th, 2020 at 5:00 PM
8 comments on "
Theresa M. Sawvell

"