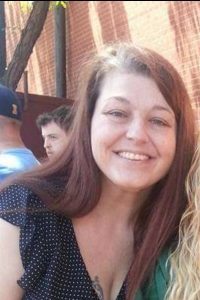 Obituary
Services
Condolences
Toni M. Ames, age 43, of Dubuque, Iowa, completed her earthly journey suddenly on January 6, 2021, at home. To honor Toni's life, her Celebration Of life will be held on Saturday, January 16, 2021, from 11:00 a.m. until 1:00 p.m. in the Mueller Memorial Chapel at Linwood Cemetery, 2736 Windsor Avenue in Dubuque. The Tri-State Cremation Center is humbly serving Toni's family.
Toni was born on September 8, 1977, in Rockford, Illinois, a daughter to Lawrence P. and Sharie K. (Farley) Grubb. She grew up dreaming of a family of her own to love and raise and after meeting her true-love, David Ames, she grew even more confident that her dream was finally going to become a reality. They were united in marriage on July 12, 1997, in Rockford, Illinois, and were soon blessed with 3 beautiful daughters. Toni navigated her way into motherhood quite easily and devoted all of her energies into being the best wife and mother she could be. Toni was a bubbly and happy soul who quite often found joy in sharing her favorite quotes from funny movies with anyone who would listen. She also enjoyed writing whenever time allowed and listening to favorites such as, Elton John's Tiny Dancer in the background as she worked on her latest drawing was also a favorite pastime. Toni also had the opportunity to express her artistic and creative talents in painting and etching for many years at her Aunt and Uncle's business in Rockford. Toni has been known to enjoy a night out dancing in her earlier years, but most recently any opportunity to spend a little quality time with her little nugget, Sawyer, was her greatest passion. There are simply no words to describe the sudden loss of our beloved Toni from our physical presence. The memories of her boundless love for life will thankfully help to fill the unavoidable emotional chasm ahead, but we can only hope and pray that the undeniable weight which our hearts must bear today will eventually heal in time. Thank you, Toni, for simply being the light in our lives which will never fade, and may the Lord's loving grace be upon you until we meet again.
Those left behind to cherish the memory of Toni include,
her loving husband of 23 years,
David P. Ames, Jr., Dubuque, Iowa;
her 3 adored daughters,
Zoe (Alex Puccio) Ames, Dubuque, Iowa,
Carmen (Joseph Puccio) Ames, Dubuque, Iowa,
and Hannah (Ben Steines) Ames, Dubuque, Iowa;
her grandchildren,
Sawyer Puccio, with 2 more precious little ones on the way;
her father,
Larry (Lisa) Grubb, Richmond, Illinois;
her siblings,
Sydney Grubb and Tyler Grubb;
her mother-in-law,
Rose (Ed Wiezorek) Ames, Dubuque, Iowa;
her father-in-law,
David P. Ames, Sr., Rockford, Illinois;
her grandparents,
Barb Grubb, Bryon, Illinois,
Rosemary Capriola, Dubuque, Iowa,
and Gary (Raejean) Fairbanks, Cedar Rapids, Iowa;
her brother-in-law,
Jeffrey (Jackie) Ames, Rockford, Illinois;
her nieces,
Lillian Ames and Evie Ames;
her lifelong friend,
Wendy Jolene;
along with numerous extended family, friends, and neighbors.
Toni was preceded in death by her mother; and her grandparents, Carl Craddock, Bob Shipp, and Bob (Norma) Farley.
Toni's family would like to thank all of our family, friends, and neighbors who have offered their heartfelt support and sympathy during this most difficult time.
Online condolences may be shared with Toni's family at www.tristatecremationcenter.com
Celebration of Life
Mueller Memorial Chapel at Linwood Cemetery
2736 Windsor Avenue, Dubuque, Iowa, 52001
January 16th, 2021 from 11:00 AM to 1:00 PM