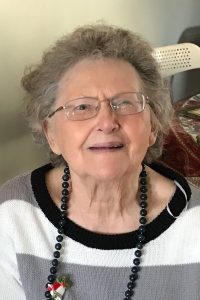 Obituary
Services
Condolences
Yvonne L. Jorgensen, age 84, of Dubuque, Iowa, completed her earthly journey on January 25, 2021, at Luther Manor in Dubuque. To honor Yvonne's life, a private graveside service will be held at a later date. Burial will be in the Asbury Cemetery. The Tri-State Cremation Center is humbly serving Yvonne's family.
Yvonne was born on January 9, 1937, in Delavan, Minnesota, a daughter to Theodore and Mildred (Ziemer) Schnittger. Yvonne was first and foremost an amazing wife and mother. She had faithfully and diligently devoted her years to loving and nurturing her family through each and every day and her skills in the kitchen will continue to bring a smile to the faces of all who were blessed to be able to enjoy her talents over the years. She did spend a few years working outside of the home in the medical field as well, both in Minnesota and Dubuque. Over 6 years with Dr. Bird's office in Kiester, Minnesota, before Marlin was transferred to Dubuque with Interstate Power in 1982. The family now settled into their new home on Valentine Drive and it didn't take long for Yvonne to make many new friends at Dubuque Internal Medicine, where she worked in the coding department for over 16 years before she eventually retired. Yvonne had always enjoyed traveling whenever possible, and especially appreciated the opportunity for her and Marlin to winter in Ormond Beach, Florida, for over 15 years. Yvonne was a gentle, kind, and tender soul who always embraced all that was good in the world around her. We will surely miss her loving spirit moving forward, but trust that the Lord will keep her safe in His loving arms until we meet again. Thank you, Yvonne, for being the salt and light in so many lives and know that we will treasure every memory you leave behind as we patiently seek healing from your loss.
Those left behind to cherish the memory of Yvonne include,
her loving husband of 63 years,
Marlin Jorgensen, Dubuque, Iowa;
her 3 children,
Don M. (Jody) Jorgensen, Davenport, Iowa,
Dean L. (Debra) Jorgensen, Dubuque, Iowa,
and Doyle T. (Jean Paisley) Jorgensen, Dubuque, Iowa;
her 4 adored grandchildren,
Lisa Galle, Missy Galle, Alina Davis and Cassandra Foley;
her 7 great-grandchildren,
Jacob Galle, Scott Davis,, Justin Breitbach, Tredyn Davis, Teegan Davis, Elisabeth Steil, and Elyse Steil,
her great-great grandson,
Apollo Breitbach;
her brother,
Glen (Joni) Schnittger, Owatonna Minnesota;
along with numerous extended family, friends, and neighbors.
Yvonne was preceded in death by her parents; her son, Darin F. Jorgensen; and her brother, Darwin (Homerene) Schnittger.
Yvonne's family would like to thank the nurses and staff at Luther Manor and Hospice of Dubuque for all of their professional and compassionate care of Yvonne, and her family.
Online condolences may be shared with Yvonne's family at www.tristatecremationcenter.com
To honor Yvonne's life, a private graveside service will be held at a later date. Burial will be in the Asbury Cemetery.
2 comments on "
Yvonne L. Jorgensen

"